Argan Oil & Natural Treatments for Arthritis
Argan Oil has been traditionally used in Morocco to relieve symptoms of Arthritis.
Cosmetic Argan Oil is used in combination with essential oils as a massage oil for pain relief.
Culinary Argan Oil is eaten to combat joint inflammation.
It is used as a dietary supplement for Arthritis because it is exceptionally rich in nutrients that help relieve inflammatory diseases.
Dietary Supplements, Culinary Argan Oil & Arthritis
Argan Oil contains Triterpenoids, in particular butyrospermol.
These are important, biologically active substances well known for their anti-inflammatory benefits.[1] . Culinary Argan Oil contains around 18%… Continue reading →
Argan Oil & the Moroccan Berber Women's Cooperatives
A story of how family groups came together to create the Argan Oil women's cooperatives owned entirely by Berber women.
Of, how one Moroccan university professor's interest in the economic preservation of the Argan tree transformed a traditional craft into a global trade.
A project that improved health. education and increased their the members income by more than ten times.
Who owns the Argan Trees?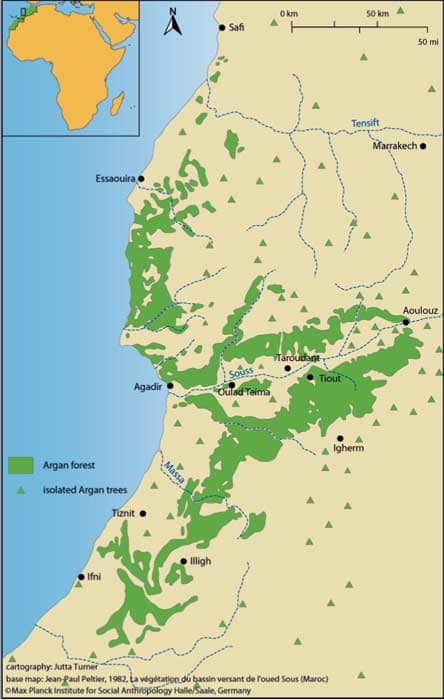 Map: Max Planck Institute for Social Anthropology:
Project Turner
Argan Oil has been made for hundreds if not thousands of years by the native inhabitants of… Continue reading →
Israeli Argan Oil & Argan 100
Will Israeli Projects impact the livelihood of Berber Womens Cooperatives?
Israel has been trying to establish itself in the Argan Oil business and is starting to grow the Argan tree in the Negev desert Israel. The project is part of a national program to encourage new Israeli settlers to establish new communities in more rural areas. Israeli companies have been developing what they call a "super strain" of Argan. They claim that this strain should survive in less harsh conditions and produce ten times more nuts than the trees in Morocco
.
The Chemistry of Argan Oil
What is in Argan Oil that makes it so good for skin, hair?
Why is Culinary Argan Oil so popular for use as a health supplement?
Argan has a high nutrient content and a complex chemistry.
It is this complex blend of biologically active compounds that gives it its benefits for skin care and health.
Here we discuss all the most active nutrients from Triglycerides to Saponins.

– Argan Oil Triperpenes
– Omega Fatty Acids in Argan Oil
– The Amazing Effects of Plant Sterols
– Antioxidants in Argan Oil
What Does Argan Oil Smell Like?
There are 4 grades of genuine cosmetic Argan Oil each of which has a different scent.
There is also an edible Culinary Argan Oil which has a nutty smell
Below we reveal the different types of Argan Oil you may see for sale, their smell and what it means.
On this Page
● The Different Grades of Argan Oil
● Factors Affecting the Smell of Argan Oil
● Fake or Bad Argan Oil
● Scented Vs Unscented Argan Oil
● Buy Pure Argan Oil
The Different Grades of Cosmetic Argan Oil