Prickly Pear Oil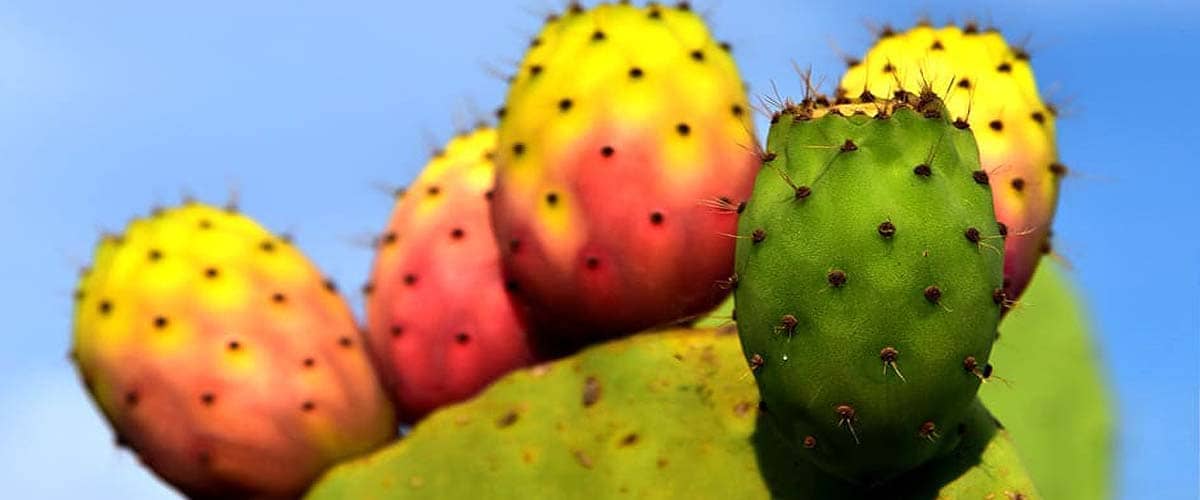 Prickly Pear Oil has many names – Prickly Pear Seed Oil, Cactus Seed Oil even Barbary Fig Oil.
Original, authentic Prickly Pear Oil is made in Morocco. It is cold-pressed from the seeds of the Opuntia Ficus Indica cactus exclusively.
It is prized for its antiaging effects on lines and wrinkles on the face. The oil is most popular for use on the signs of aging around the eye area – wrinkles, dark circles and "bags".
Pure Prickly Pear Oil needs an incredible 1000 kg of cactus fruit to extract enough seeds to make just one litre / 35 fl oz of pure prickly pear seed oil. This is what makes an authentic Prickly Pear Oil one so expensive.
Buy Authentic Moroccan Prickly Pear Seed Oil ⯈


---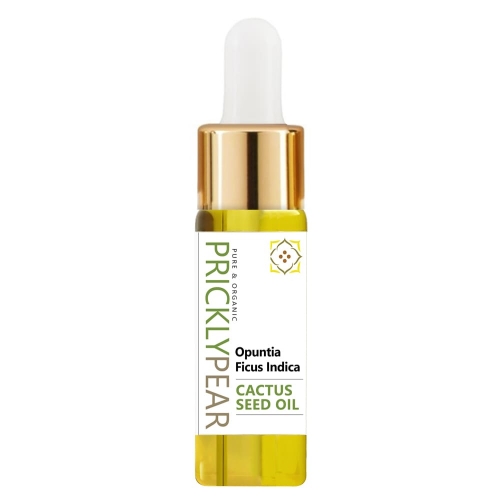 Pure Cactus Seed Oil 10 ml
Authentic Moroccan Prickly Pear Cactus Seed Oil.
100% Pure Oil
Certified Organic
In Stock
Quality Guarantee

Free USPS 5-7 Day Tracked Shipping to U.S.
Now $19.78
---
The Benefits of Prickly Pear Oil for Skin
In Morocco we use Prickly Pear Oil because it firms skin, calms inflammation and helps even our skin tone.
Cactus seed oil is a rich, fatty oil suitable for most skin types including those with sensitive skin. [0] Perfect for deep hydration and protection of the face in any environment.
Prickly Pear Oil is normally used on the face around the eye area to smooth out lines and wrinkles.
Cactus seed oil is suitable for acne-prone skin.
With regular use on the face, it can help reduce breakouts and keep spots under control.
It also has a gentle lightening effect that may help toward the lightening of dark spots.
It also has a healing effect than may help heal fine lines and scars.
The most important benefits and uses of Prickly Pear Seed Oil are:
Intensive anti aging effect on wrinkles on the face
Reduce dark circles under the eyes
Firm skin under & around eye area
Contains Vitamin K which can reduce spider veins and "dark circles"
Calms inflamed, red or blotchy skin
Gently lightens dark skin marks to even out complexion
Restores skin elasticity
What is Prickly Pear Cactus Oil?

Prickly Pear Seed Oil is a natural oil extracted from the seeds of the fruit of the Opuntia ficus Indica cactus.
This cactus grows up to 2 meters in height and needs little water.
They thrive in hot, arid areas of the world – like Morocco.
The Opuntia Ficus Indica cacti produce beautiful bright yellow and pink flowers in the spring.
By the end of summer, they make ovoid fruits. These are slightly soft, 5 to 8 cm in length and has a green to reddish-purple colour.
Each prickly pear fruit is full of tiny black seeds.
It is these seeds that are used to make Prickly Pear Seed Oil.
How is Cactus Seed Oil Made?
An authentic prickly pear oil is cold-pressed from the seeds only.
They are hard and woody and contain less than 5% oil.
Becuase of this we have to harvest 1000 kilos of prickly pear fruits to make 1 litre / 34 fl oz of pure oil.
First, the cactus fruits are picked. Then we extract the small black seeds and dry them.
Finally, we take 30 kg of dry seeds and cold-press them to make one litre ( 35 fl oz ) of pure oil!
How to Use Cactus Seed Oil
How to use Prickly Pear Oil for Skin
Apply Prickly Pear seed oil to wet or dry skin after cleansing.
Put a drop or two on your fingertips and gently massage it into any areas that need treatment. The oil will leave your skin feeling soft and smooth.
Use on facial areas that need extra care at once a day. Around the eyes, lips and any areas with wrinkles. The ideal time to apply is before going to bed to allow the seed oil to work overnight.
Prickly Pear Oil for Hair
Prickly Pear Oil is probably a bit expensive to use as a hair oil treatment.
However, in Morocco we often use small amounts to repair damaged hair tips and prevent hair-splitting.
Since this is usually just the tips of the hair – the "split ends" it does not require too much oil. To treat the tips of the hair with Prickly Pear Oil put a few drops on the tips of your fingers, then squeeze and press the oil into the hair ends. Then just leave it as long as possible – ideally overnight – then you can shampoo out any excess oi.
If your hair is frizzy and damaged try a very light coat of Prickly Pear Oil.
Put a few drops of oil in the palms, rubbing together until the oil is warm, then run the fingers, lightly through your hair to distribute a very light coating of oil throughout your hair. Repeat a few times as needed. The hair frizz and split hairs should just be "calmed down" not very oily.
Next use a hairdryer on a low to medium heat just to warm your hair a little and help to oil to spread evenly. Leave the oil on as long as possible then shampoo out the excess if necessary
You can also use Prickly Pear Oil for dry or scaly skin patches on the scalp.
---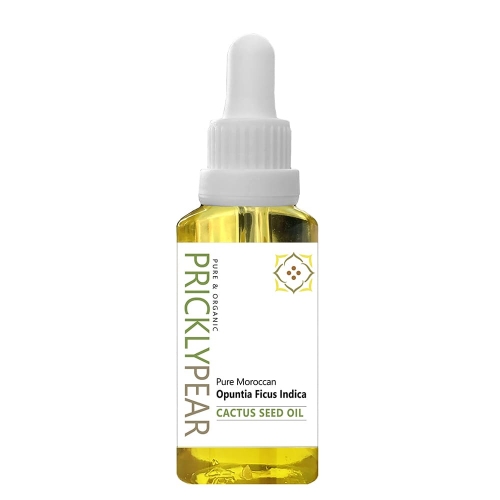 Pure Prickly Pear Cactus Seed Oil 32 ml
Authentic Pure Moroccan Cactus Oil. 100% Cold-Pressed Seed Oil
100% Pure Oil
Certified Organic
In Stock
Quality Guarantee

Free USPS 5-7 Day Tracked Shipping to U.S.
Now $52.18
---
Prickly Pear Seed Oil vs Argan Oil?

Due to its scarcity and high price, Prickly Pear oil is mostly used as an intensive treatment for the face.
It is best used on small areas such as wrinkles around the eyes, on the forehead, mouth or neck.
TIP: Use in conjunction with pure Argan Oil for your skin or hair as a daily anti-ageing treatment.
Target the face with an extra boost of pure anti-ageing Prickly Pear seed Oil.
How to Spot a Fake Cactus Seed Oil?
Genuine Pure Cactus Seed oil is only made from cactus seeds.
Ingredients should read 100% Pure Prickly Pear Seed Oil from Opuntia Ficus Indica Cactus.
Product should say Cactus Seed Oil in description.
Oil should be a pale to medium green colour – ( possibly lighter to yellow for summer pressings ).
It should quite a strong smell – fruity / floral / sweet smell – ( the smell may vary depending on harvest time of year and where seeds come from generally it is "lighter" for summer pressings ).
It has a rich fatty feel between the fingers
Prices vary a lot for a genuine oil. Compare prices and you should soon get a good idea.
Make sure the oil is not actually a "prickly pear macerate".
Prickly Pear Cactus grows all over the world. But it is really Morocco that produced it for cosmetic use.
We have tested many oils advertised as "prickly pear oil" but at much lower prices. These oils were not from Morocco – most often from Mexico and India.
They may be oil made from cactus seeds but they are not the same at all.
With over 1000 kg of cactus fruit going into one litre we work hard to keep prices as low as possible. So when you see 80 ml for the same price of 10 ml in most other stores alarm bells should ring!
The Ultimate Guide to Cactus Seed Oil – e-book
---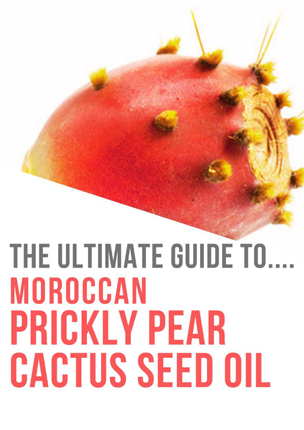 This Free e-Book is about Pure Moroccan Cactus Seed Oil.
Possibly one of the most expensive cosmetic oils in the world that takes 1000 KG of cactus fruits to make just 1 litre of pure oil.
It is known by many names. Barbary fig seed oil, Berber Fig Seed Oil, Prickly Pear Cactus Seed Oil, Cactus Pear Oil, Aknari ( the word for cactus in Berber ) and even Moroccan Cactus Oil. These are all just names for Oil from the Opuntia Ficus Indica Cactus.
Learn all about the properties, uses and benefits of cactus seed oil in our free 17 page e-Book.
Faqs – Prickly Pear Cactus Seed Oil

What Should Prickly Pear Oil look like?
Pure Prickly pear oil should have a pale to medium greenish or greenish yellow appearance – although you will see significant seasonal variations.
However, it should certainly not be clear or any other colour.
What Does Prickly Pear Cactus Seed Oil Smell Like?
A genuine high quality pure Prickly Pear Seed Oil has a pronounced but not overpowering odour.
Research shows that the main active odour producing compounds in Prickly Pear are the same as cucumber and melons.[4]
Authentic Organic Cactus Seed Oil has a unique smell we would describe as Floral, Fruity and a Sweet Honey. However, it is a natural product and due to the extreme amounts of seeds required they will be sourced from different parts of Morocco ar different times of the year. This means the smell and colour can vary. Pressing after the end of summer tends to have a darker colour, richer in sediment and a "darker" almost "toasted" smell.
Cheap or fake prickly pear seed oils will a weak smell and pale colour.
What Should Cactus Seed Oil Feel Like?
Cactus seed oil will have a rich, fatty, silky smooth feel.
How long does Prickly Pear Oil keep?
All of our Argan and Cactus Oil is cold-pressed every 3 months or so.
This means your oil, which is very rich in natural anti-oxidants will have shelf-life of up to 18 months. Always store natural oils out of direct, strong light and avoid strong heat or cold.
After opening, we would recommend using the oil within 9 to 12 months.
The Best Authentic Moroccan Cactus Seed Oil
The original Prickly Pear Oil is made in Morocco.
For centuries it has been made using traditional techniques and is simply the best cactus seed oil for cosmetic use.
While other cactus seed oils are now made around the world the production techniques are not the same.
Some products advertised on major shopping sites are oils made from cactus but" are not made from pure seed only.
There are also many types of "Prickly Pear Cactus" other then Opuntia Ficus Indica.
To save time and make cheaper "cactus oils" some regions press the cactus fruit – not just the seeds.
You may also find "macerates" which is where an ingredient, like a flower or in this case cactus seeds, will be steeped in a vegetable carrier oil with the idea the properties may ( or may not! ) be carried into the oil.
As discussed the only correct way is by using traditional methods and pressing the seeds only.
For a guide to identifying authentic, pure, Moroccan grade cactus seed oil read our FAQs section.
A pure cactus seed oil has 150% as much anti-oxidants as Argan Oil, plus minerals, vitamin-K, plant sterols, fatty acids, ß-carotene, and betalains.
All of which have beneficial effects on the skin.
Buy Genuine Pure Cactus Seed Oil
We sell only pure Organic Cactus Seed oil in 10ml and 30ml bottles.
Around 3 to 6 drops will normally be enough to treat the areas of wrinkles on the face.
You can also use for any areas of skin, hair or nails that need that extra intensive therapy.
Our 10ml / 0,34 oz bottle contains around 240 drops and so should last you 4 to 6 weeks.
Our 30ml / 1 oz bottle contains around 750 drops and so should last you 8 to 12 weeks – but of course this depends very much on usage.
Try our pure and certified organic cactus Seed Oil today.
Buy with free worldwide delivery and our money-back guarantee of quality.