Culinary Argan Oil for Food, Eating & Health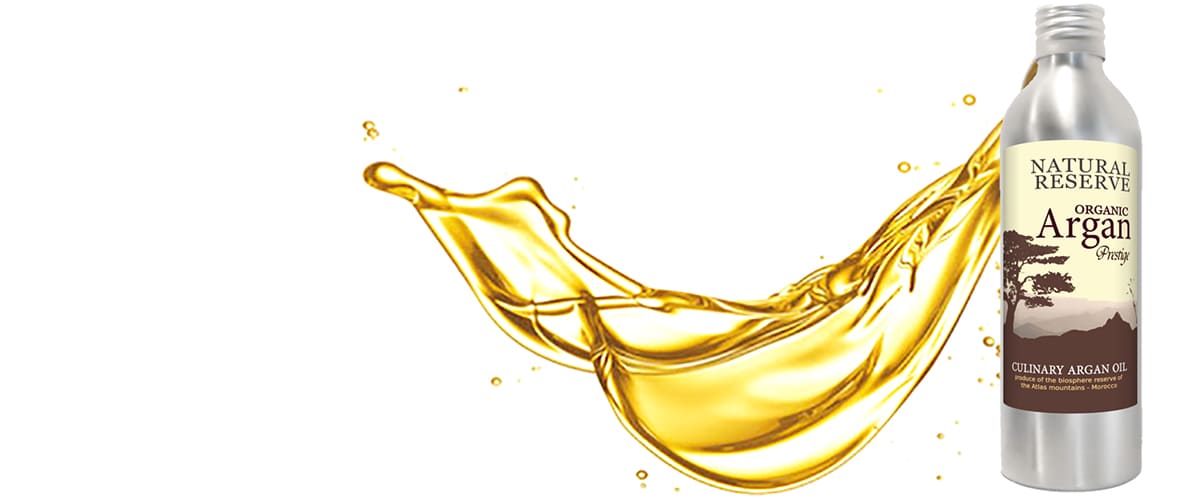 Culinary Argan Oil is a type of Argan Oil which is edible.
To make Culinary Argan Oil for eating the nut kernels are toasted before pressing.
This gives it a golden colour and unique nutty flavour.
In Morocco it is used for cooking, eating and also as a nutritional supplement because of its many health benefits.
The Benefits & Uses of Edible Argan Oil
What is Culinary Argan Oil?
Culinary Argan Oil is a food made for eating, cooking and also used as a dietary supplement for its health benefits.
To make Argan Oil for eating the oil rich Argan kernels are extracted from the hard Argan nuts.
Next the white Argan nut kernels are toasted before cold-pressing.
An authentic Moroccan Culinary Argan Oil for eating should have a golden brown colour and delicious nutty taste.
This is the difference between culinary food-grade Argan Oil which is edible and cosmetic Argan Oil.
You can cook with culinary Argan Oil but the toasting process makes it unsuitable for cosmetic use.
Culinary Argan Oil is also a super-healthy, Ecocert and USDA certified organic, edible oil.
It contains a wide range of healthy nutrients as well having a great flavour.
Cooking with & Eating Culinary Argan Oil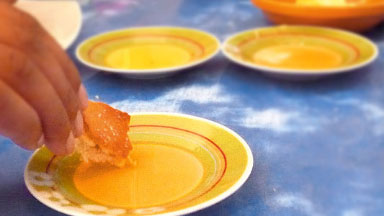 Culinary Argan Oil has a very versatile flavour and is used to create many types of food including…
Salad Dressings
Nutty Salsas
Creamy, Spicy Sauces
Grilled Fish
Rich Toasted Cheeses Salads
Dried Fruit Recipes
Roasted Vegetables
Biscuits and Brownies
Desert Pasta Dishes
Spreads and Ice Cream Toppings
In Moroccan cooking Culinary Argan Oil is used for its toasted, creamy, nutty flavour.
It is rarely used in place of Olive Oil for high temperature cooking and frying. It may be used for medium heat applications such as pan frying ingredients, frying onions or frying a chicken with spices.
It is a very versatile oil which can be used in a range of cuisines. It adds flavour and richness to sweet and savoury dishes. Use it to create unique nutty salad dressings, sauces, pour over food, such as roasted pepper, before serving or stirred into soups, roasts or Tagines.
Use to create sweet sauces on grilled goat cheese with almonds, blend with honey to create a breakfast spread, blend with melted chocolate or cream to create unique ice cream toppings.
In Morocco Argan is most often enjoyed dipping bread into the oil and eating
Learn More About Culinary Argan Oil Recipes >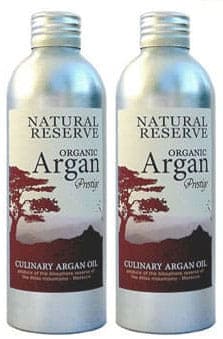 Culinary Argan Oil - 400ml
Toasted, edible, organic Argan Oil for cooking, eating & dietary supplement.
● 100% Pure Oil
● Certified Organic
● In Stock
● Free Delivery
● Quality Guarantee

Was $61.16 Now $52.06
Free Worldwide Delivery
The Health Benefits of Culinary Argan Oil
Many studies have now confirmed the potential benefits of Culinary Argan Oil for some serious health problems.
The oil contains a complex range of beneficial bio-active nutrients, anti oxidants, fatty acids, Beta Amyrine, Butyrospermol, Lupenol, plant sterols and more.
Once ingested these nutrients have been shown to be of help in the treatment of some common diseases such as:
Cholesterol Reduction
Cardiovascular Disease Treatment
Diabetes
Arthritis
Weight & BMI
Learn More About The Health Benefits of Culinary Argan Oil >
Culinary Argan Oil Nutritional Information
This table shows dietary information for our organic, Culinary Argan Oil.
It contains details of energy in calories ( kcal ), fat content, carbohydrate, sugars, protein and salt.
Figures are given for a single 15ml Tablespoon – the typical daily dose used in studies.
This nutritional information can be used in planning your balanced diet.
Serving Size: 1 Tablespoon
14ml
0.51 fl oz

Saturated Fats:
Palmitic Acid 12.5%
Stearic Acid 5.8%

2.7 g
0.094 oz

Poly Unsaturated Fats:
Linoleic Acid 34%

5.0 g
0.18 oz

Mono Unsaturated Fats:
Oleic Acid 45%

6.3 g
0.22 oz
Total Fat
13 g
0.46 oz
Total Carbs
0g
0 oz
Total Protein
0g
0 oz
Buy Culinary Argan Oil for Cooking
Buy certified organic culinary Argan Oil and view our latest special offers on our web store.
You can also buy directly from some of our web pages where you see the add to cart buttons.
Prices include Free Delivery World-wide.