Black Seed Oil | Black Cumin | Nigella Sativa Oil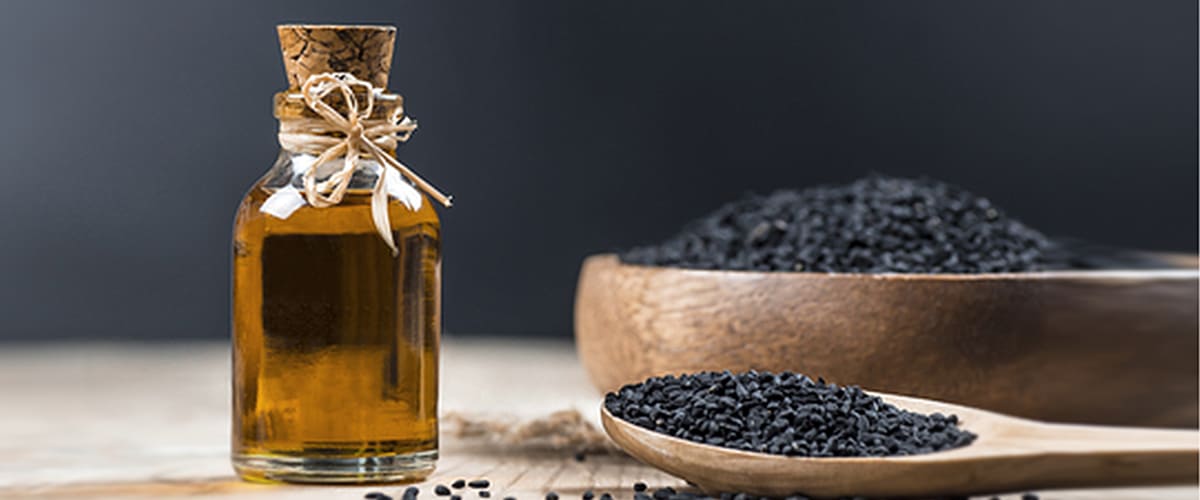 Black Seed Oil is known by many names including black cumin, nigella sativa, kalonji and in Morocco Sanouj.
For over 2000 years it has been used in traditional medicine. Today it is still highly regarded in the Middle East, North Africa and Asia for its many health benefits. The most important health benefits are it's anti-inflammatory and analgesic effects.
In this article we will look at the most important health benefits of Black Seed Oil. We also review recent studies that provide a scientific explanation to support the traditional use for health problems.
To see details of studies referred to in this article please click on the grey "research and references" box at the end of this article.

Benefits & Uses of Black Seed Oil- An Overview
Most Popular Tradtional Uses for Black Seed Oil
Most research into the medicinal benefits concentrates on:
Asthma [1] [5] [3] [10]
COPD – Chronic Obstructive Pulmonary Disease [4]
Diabetes [50] [51] [53]
Rheumatoid Arthritis [33] [34] [35]
Weight-loss [2] [22]
Skin Problems – Eczema Psoriasis
What is Black Seed Oil
Black Seed Oil is an oil made form the seeds of the Nigella Sativa plant.
The Nigella Sativa plant is a member of the Ranunculaceae family of plants, and many of these have medicinal properties.
The plant grows around the eastern Mediterranean, North Africa, India and West Asia where it is highly prized for its health benefits.
How is Black Seed Oil Made
Black Cumin Oil is made from the black seeds of the Nigella sativa plant is using a cold-pressing method.
The oil has a dark orange colour and a unique intensely, bitter flavour and aroma.
How Does Black Seed Oil Work
Detailed analysis has identified the compounds found in Nigella Sativa Oil. Many of these are known for their bio-active effects and could explain the observed health benefits of Black Cumin Oil.
The bio-ective effects of compounds in the oil include:
Anti-inflammatory
Analgesic
Anti-hyperlipidemic
Anti-convulsant
Anti-microbial
Antioxidant
Antihistaminic
Immune-modulator
Antimicrobial
Analgesic
The most important active ingredients are Thymoquinone and Alpha-hederin.
Thymoquinone and Alpha-hederin have proven antiinflammatory and antioxidant effects. In fact, they have been widely researched for their benefits for cardiovascular diseases, diabetes, neurodegenerative diseases, stroke and cancer.[71]
In addition, there are many other active compounds in the oil – and the seeds.
However, to discuss all of them is beyond the scope of this article. [4]
How to Use Black Seed Oil
Eating it as a Nutritional Supplement
It has to be said.. this oil has a pretty unique and intense flavour that can be too strong for some!
When using it as a supplement a lot of people mix it with honey to make it more palatable. However, with the time you do get used to the taste – a bit! Alternatively, you could add the oil to foods.
External Use
Apply the pure oil to the skin and it is said to be of help with skin problems such as Eczema or Psoriasis. This may be due to the natural antihistamine and anti-inflammatory properties of the oil
Some people suggest mixing 2 tablespoons ( 30 ml ) Black Seed Oil with 2 Tablespoons ( 30ml ) of Apple Cider Vinegar as a topical application for inflammatory skin problems such as Eczema.
The Health Benefits & Uses in Detail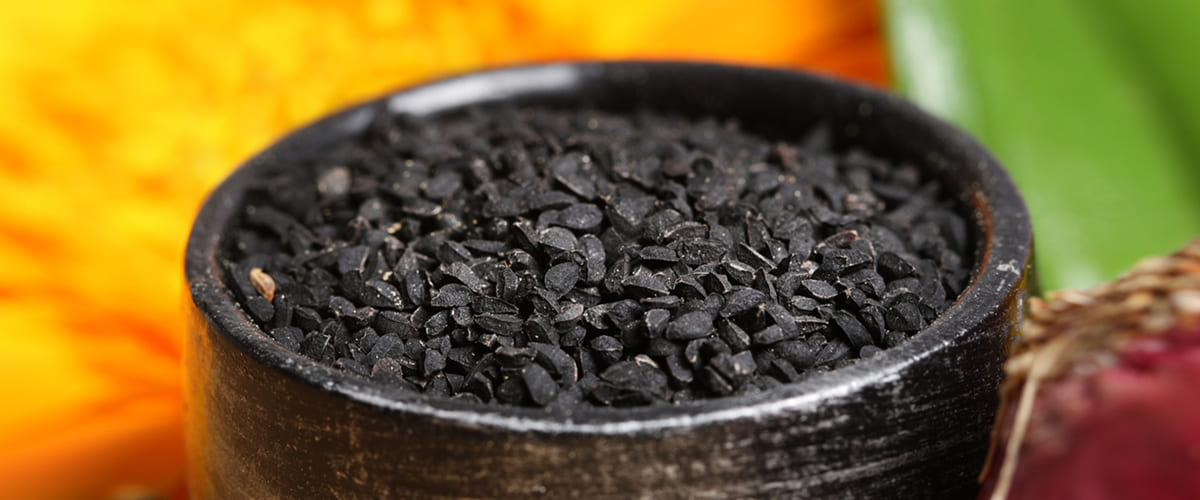 Skin Problems
Black Seed Oil can be helpful for treating Eczema and other skin problems where inflammation is a problem. It isn't used as a moisturiser for anti-ageing skincare. [59]
Many common skin problems, from Eczema to Acne and Psoriasis [57] are treated by doctors with steroids and antihistamines.These are not ideal and can cause skin problems, such as scaling or thinning of the skin, with long term use.
The oil may also be of benefits for fading hyperpigmenation and dark marks on the skin. [58]
This is most likely thanks to the anti-inflammatory and anti-histamine properties. The active compounds nigellidine, nigellimine, dithymoquinone, thymohydroquinone, alphahederin, thymol, nigellicine and carvacrol are known for their beneficial effects on skin problems. [57][58]
Asthma
Studies showed extract of Nigella Satica has good anti histamine effects.
It was found that this supression of histmine was effective as an anti-inflammation treatment. The conclusion was that Nigella Sativa could be of use for the management of asthma. [1] [5] [3] [10]
In the study patients took 1/2 ml ( about a 10 th of a teaspoon ) twice a day for 4 weeks.
The oil was found to be safe and showed "a significant improvement in mean Asthma Control Test score" [45]
COPD is a lung disease that causes long-term breathing problems. There is currently there is no cure. Treatments of COPD include long term use of potentially harmful bronchodilators and anti-inflammatory drugs.
Since Black Seed Oil has traditionally been used for lung problems trials have been undertaken to see if Nigella Sativa seed oil really can help with COPD. The results of a study published in 2020 showed very promising results. [3]
In this study the test group were given a dose 1 ml twice daily of 100% pure cold-pressed black seed oil [4]. After 3 months all pulmonary functions were tested again. The results showed that used alongside other therapies Pure Black Seed Oil significantly improved the lung functions and reduced the aggravation of inflammatory processes by significantly reducing inflammation markers. [4]
Diabetes
A review of previous studies concluded that Black Seed Oil shows promising results on glucose homeostasis and serum lipids. [51] [53]
The use of black cumin as a supplement significantly improved fasting blood sugar (FBS) levels.
This study review suggests that a Nigella Sativa Oil supplement could be a good choice for managing Type 2 Diabetes, although it does say that more detailed research is necessary.[87] [50]
One study in 99 adults with type 2 diabetes found that both 1/3 teaspoon (1.5 mL) and 3/5 teaspoon (3 mL) per day of black seed oil for 20 days significantly reduced HbA1c levels, compared with a placebo. [85]
Rheumatoid Arthritis
Black Seed Oil has traditionally been used for the management of pain in joints, back, musculoskeletal pain and control of rheumatoid arthritis.
The recent studies that looked at this concluded that Nigella Sativa Seed oil, and especially thymoquinone content, does have a clear effect. The anti-inflammatory and analgesic effects of Black Seed Oil were already widely recognised. However, the role of thymoquinone was confirmed in clinical studies that found both oral and topical use worked without adverse effects in patients suffering from arthritis rheumatoid. [33] [34] A dose of just 1 ml per day for 8 weeks was used in trials. [35]
In conclusion studies suggest that Nigella Sativa Oil may be a beneficial and safe therapy which can be used alongdide other treatments. [35]
Weight-loss
The oil from Nigella Sativa has anti-obesity effects.
It is proposed that this is due to anti-inflammatory properties but the exact way it works is not yet clear. Furthermore, weight loss in the obese can have some risk for the heart. The studies found those in the Black Seed Oil group saw significant improvements in triglyceride and LDL (bad) cholesterol levels. [2]
After 8 weeks they found "those taking the black seed oil had lost significantly more weight. [22]
Carvacrol & Parkinsons Disease
Carvacrol is found in N. sativa. The effects on Parkinson's disease induced in a laboratory on the midbrain were measured.
"Giving Carvacrol reduced the rotation number, decreased the MDA and nitrite level and increased the antioxidant enzyme catalase, and it also has a protective effect against lipid peroxidation and free radicals synthesis" [56]
FAQ's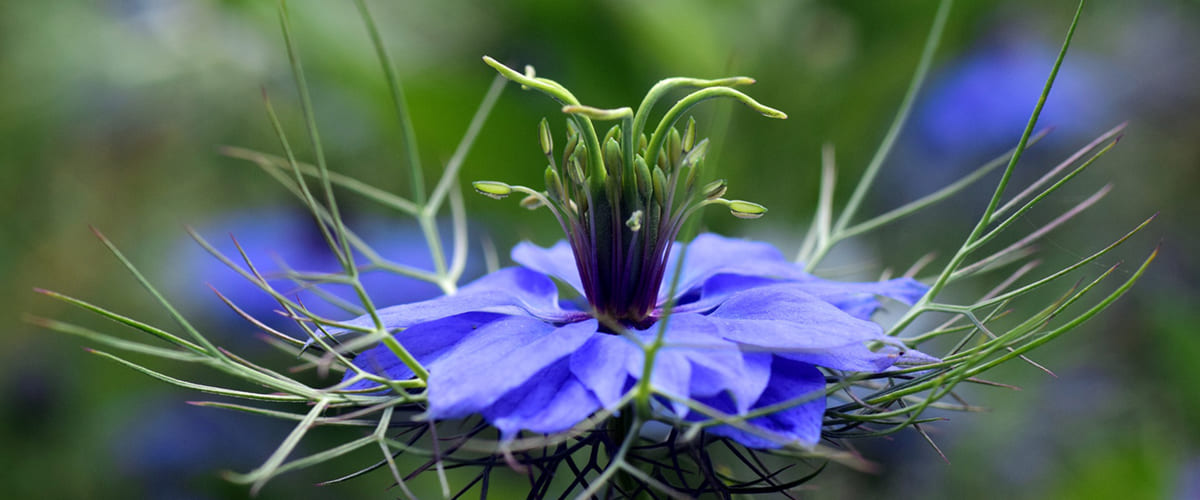 What does Black Seed oil look like?
A pure Black Seed Oil should be a light to medium orange/brown colour and clear in appearance.

What does Black Seed Oil smell like?
It should have an intense smell a bit like cumin / oregano or thyme
How to Tell Genuine Oil?
Look for a 100% / pure Nigella Sativa Seed Oil
Product should say Black Seed Oil – Black Cumin in the description.
It should have a light to medium to orange/brown colour and be clear.
It should have an intense smell a bit like cumin / oregano or thyme
The taste! is utterly unique. Very intense, bitter a sort of toasted cumn taste
How long does it keep? – Shelf Life
Black seed Oil has high levels natural anti-oxidants and so has a long shelf-life.
Stored at room temperature it will stay in good condition for up to 12 months.
Dosage
A limited number of studies have been conducted with Black Seed Oil so exact recommendations are difficult.
However, the general consensus is a typical, effective dose for a health supplement is around 1 to 3ml per day. It is also suggested not to exceed 10ml per day of pure oil.
Specific Dose Recommendations…..
Asthma
Patients in a study into the benefits of Black Seed Oil for Asthma took 1/2 ml ( about a 10 th of a teaspoon ) twice a day for 4 weeks. This was found to be safe and showed "a significant improvement in mean Asthma Control Test score" [45]
COPD
An oral dose of 1ml twice a day of pure Black Seed Oil. Studies found signicant benefits in this dosage when observed over a period of 3 months. [4]
Weight Loss
A group of obese women were given 1 gram of black seed oil before each meal for a total of 3 grams per day [22] After 8 weeks they found "those taking the black seed oil had lost significantly more weight"
Diabetes / Blood Sugar Level Control
A study of adults with type 2 diabetes found that both 1.5 ml to 3ml of Black Seed Oil per day, for 20 days significantly reduced Gylcated Haemoglobin ( HbA1c ) levels. [88]
Rhematoid Arthritis
In a study the a test group with RA used 1 ml of Nigella Sativa Oil a day for 8 weeks. [35]
Side Effects
There is little research or evidence into the safety of Black Seed Oil.
However, many test have been made over many months with no reported adverse effects.
If you have kidney problems, it's recommended to talk with your doctor first.
If you are are pregnant or breastfeeding it may be best to avoid using Black Seed Oil as a supplement.
For more information on potential side effects you can see this article.
Buy Black Seed Oil- Argan & Prickly Pear Cactus Seed Oil
You can buy pure Black Seed Oil directly from this page or visit our full online store.
---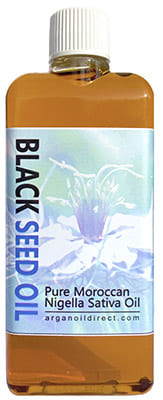 Pure Moroccan Black Seed Oil 110 ml
Authentic Pure Nigella Sativa Seed Oil. 100% Cold-Pressed Seed Oil
100% Pure Oil
In Stock
Quality Guarantee

Free USPS 5-7 Day Tracked Shipping to U.S.
Now $23.38
---