The Benefits of Culinary Argan Oil for Health & Argan Oil Capsules
Culinary Argan Oil is used for cooking, eating and also for its healthy properties.
In Morocco edible Argan oil is taken by the spoon for health problems and is not available in Capsules.
It is used in traditional medicine for health problems including Arthritis, Diabetes and heart disease.
Recent studies are now confirming the science behind the traditional use of Culinary Argan Oil.

A Guide to Culinary Argan Oil for Health
The Health Benefits of Eating Argan Oil?
There are two types of Argan Oil – Cosmetic Argan Oil and Culinary Argan Oil.
Culinary Oil is used for eating and as a nutritional supplement.
Cosmetic Argan Oil is used for skin and hair care.
Culinary Argan Oil has twice the anti oxidant vitamin content of Olive Oil and is rich in Omega fatty acids, Triglycerides, Phytosterols, Saponins and many other bio-active nutrients.
It is this rich mix of bio-active compounds found in Argan Oil that give it its healthy properties.
This is why Culinary Argan Oil is used in Morocco for so many health problems such as:
Cholesterol
Culinary Argan nut oil is high oleic acid and natural plant sterols.
This makes culinary Argan oil of interest in the regulation of blood cholesterol levels.
One 21 day study discovered that good HDL cholesterol levels in the blood had gone up significantly for subjects given edible Argan Oil.
In addition, it significantly reduced Triglycerides levels in the blood. Triglycerides are linked with cardiovascular diseases such as atherosclerosis and stroke.

Learn More About Argan Oil for Cholesterol & Heart Disease >
Heart Disease & Strokes
Damage to the coronary artery walls predispose to forming thrombi leading to acute coronary syndromes such as unstable angina and MI and related effects such as stroke.
Foods such as edible Argan Oil have many beneficial effects such as lowering triglycerides levels – which are linked to cardiovascular diseases, atherosclerosis and stroke [4].
Studies show that taking Alpha-linolenic acid omega-3 fatty acids leads to a 14% to 20% reduction of heart attacks. In addition the Omega fatty acids from this plant based source were found to be twice as effective as those derived from fish oils.
Further studies into blocking abnormal fatty deposit within the walls of arteries has also been examined.

Learn More About Argan Oil Natural Treatments for Heart Disease >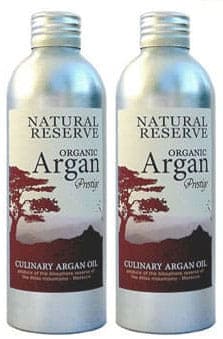 Culinary Argan Oil - 400ml
Toasted, edible, organic Argan Oil for cooking, eating & dietary supplement.
● 100% Pure Oil
● Certified Organic
● In Stock
● Free Delivery
● Quality Guarantee

Was $61.16 Now $52.06
Free Worldwide Delivery
Arthritis
In Morocco Culinary Argan Oil is used for its anti-inflammatory effects.
It contains Triterpenoids, butyrospermol, known for their anti-inflammatory benefits.
In addition, raised levels of linoleic acid, in Culinary Argan Oil increase production of prostaglandins 1.
This can help improve rheumatologic conditions.
Antioxidants, flavonoids, sapponins and tocopherols are also found in high concentrations in Argan Oil. These nutrients promote good circulation and have a strong natural anti-inflammatory effects.
It is interesting note that culinary Argan Oil has been used for heart health and that patients with rheumatoid arthritis (RA) have up to five times the risk of developing premature cardiovascular disease.[11]

Learn More About Culinary Argan Oil and Arthritis >
Diabetes
Two studies tested the use of Argan Oil in the diet for helping manage diabetes.
An promising study revealed a hypoglycaemic effect within one month in test animals.
A second study confirmed insulin-sensitising activity in cells tested with Argan press cake.
One study concludes that Argan Oil "can be recommended in the nutritional management of type 2 diabetes". [13]

Learn More About Culinary Argan Oil and Diabetes >
Nut Oils, Weight Loss, B.M.I
Carol O'Neil, PhD, MPH, RD and associates evaluated data from 13,292 men and women aged 19 and older.
Twenty-four hour data was analysed for the intake of almonds, Brazil nuts, cashews, hazelnuts, macadamias, pecans, pine nuts, pistachios and walnuts.
Consumers of nuts were defined as those who consumed at least ¼ ounce tree nuts per day.
Participants were found to have a decreased metabolic syndrome risk factors that included abdominal obesity, high blood pressure, elevated fasting glucose and low high-density lipoprotein (HDL) cholesterol in comparison with those who did not consume nuts. Nut consumers also had a lower level of C-reactive protein, a marker of inflammation and indicator in conditions such as Arthritis.
Maureen Ternus, M.S., R.D., Executive Director of the International Tree Nut Council Nutrition Research & Education Foundation (INC NREF), adds, "In light of these new data and the fact that the FDA has issued a qualified health claim for nuts and heart disease with a recommended intake nuts per day".


How to use Culinary Argan Oil or Capsules as a Supplement
How Much to take?
Most studies used about about 1 Tablespoon ( 15ml ) a day of culinary oil in tests.
This is the same amount of oil that was used in studies testing the effects of Argan Oil.
The easiest way is to eat it with a spoon or add it to food.
To get this dose using capsules you need to take about 15 Capsules or Argan tablets.
This is because capsules contain around 1ml oil which isn't enough oil for treating health problems.
Taking the pure Culinary Argan Oil using a spoon is easier – and tastier!
Furthermore, buying pure Argan Oil is more economical than buying capsules.

How Long Do You Need Take Argan Oil Supplement For?
Researchers discovered that benefits were often detectable within 3 weeks.
Full length studies lasted around 60 days.
During this time patients were given around 15ml of oil per day.
This means a treatment dose is around 450 ml of pure oil per month.
If looking to repeat a similar test yourself remember that diet is strictly controlled during tests to avoid positive or negative effects of other foods.
What is in Culinary Argan Oil & Capsules?
The main nutrients in edible, culinary Argan Oil or Argan Oil in capsules are
Omega 3 and 6 Essential Fatty Acids
Carotenoids
Arganine
Squalene & Phenolic Compounds
Vitamin E
Gamma Linoleic Acid – (GLA)
Culinary Argan Oil Nutritional Information
This table shows dietary information for our organic, Culinary Argan Oil.
It contains details of energy in calories ( kcal ), fat content, carbohydrate, sugars, protein and salt.
Figures are given for a single 15ml Tablespoon – the typical daily dose used in studies.
This nutritional information can be used in planning your balanced diet.

Serving Size: 1 Tablespoon
14ml
0.51 fl oz

Saturated Fats:
Palmitic Acid 12.5%
Stearic Acid 5.8%

2.7 g
0.094 oz

Poly Unsaturated Fats:
Linoleic Acid 34%

5.0 g
0.18 oz

Mono Unsaturated Fats:
Oleic Acid 45%

6.3 g
0.22 oz
Total Fat
13 g
0.46 oz
Total Carbs
0g
0 oz
Total Protein
0g
0 oz
Stay Healthy & Live Longer by Eating Nuts!
Dr. Frank Hu, professor of nutrition and epidemiology at the Harvard School of Public Health worked on two long-running studies of over 120,000 people.
He discovered that[0] "People who ate nuts every day lived longer, healthier lives than people who didn't eat nuts,".
The report revealed that daily nut-eaters were less likely to die of cancer, heart disease, and respiratory disease.
They were 20% less likely to have died during the study than those who avoided nuts.
In addition, the April 2012 issue of Journal of the American College of Nutrition published studies showing beneficial effects for tree nuts on reducing groups of risk factors, known as metabolic syndrome. These factors are associated with the development of type 2 diabetes, coronary artery disease and cholesterol.
Where to Buy Culinary Argan Oil?
Buy certified organic culinary Argan Oil and view our latest special offers on our web store.
You can also buy directly from web pages where you see the orange "add to cart" buttons.
Prices include Free Delivery Worldwide. All products are supported by a money back guarantee of quality.

Research and References
[0] health.harvard.edu/blog/eating-nuts-linked-to-healthier-longer-life-201311206893
[1] O'Neil, C.E., D.R. Keast, T.A. Nicklas, V.L. Fulgoni, III, 2011. Nut consumption is associated with decreased health risk factors
for cardiovascular disease and metabolic syndrome in U.S.adults: NHANES 1999-2004. J Am Coll Nutr. 30:502-510.
[2] O'Neil, C.E., D. R. Keast, V.L. Fulgoni, T.A. Nicklas, 2010. Tree nut consumption improves nutrient intake and diet quality in US adults:
an analysis of National Health and Nutrition Examination Survey (NHANES) 1999-2004. Asia Pac J Clin Nutr. 19(1):142-150.
[4] Cherki M, Derouiche A, Drissi A, et al.
Consumption of argan oil may have an antiatherogenic effect by improving paraoxonase activities and antioxidant status: intervention study in healthy men.
Nutr Metab Cardiovasc Dis 2005;15:352-360.
[11] https://www.ncbi.nlm.nih.gov/pubmed/15599672