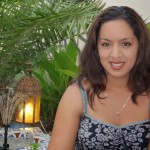 Hello. My name is Malika.
I was born into a Tashlahait Berber family in the Argan Tree forests south of Marrakech.
For generations my family have produced Argan Oil and Olive Oils.

When I moved to the UK in 1998 I discovered that I could not buy Argan Oil anywhere.
Disaster! So I quickly contacted friends and family and soon we were exporting this wonderful oil in the UK.

Nineteen years later we send Culinary Argan Oil, Cosmetic Argan Oils and Cactus Seed OIl to over 200 countries world-wide!
I source only the freshest Argan Oil and Cactus Seed Oils from the best Berber women's cooperative.
All oils are imported imported in small quantities, every 3 months or so, to ensure the oils we provide are as fresh as possible.
All of our oils have Organic ECOSERT certification, are Fair-Trade and Vegan friendly.
We are always pleased to hear from customers so do not hesitate to get in touch with any questions you may have.
Best Wishes
Malika