Welcome to Argan Oil Direct Home of Pure Cosmetic and Culinary Argan Oil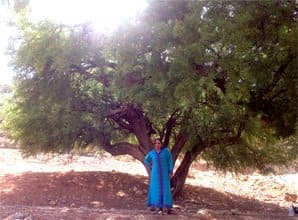 My name is Malika. I was born in Morocco and grew up in the Argan forest region south of Marrakech.
In 1998 I started to work with the best Berber women's cooperatives to source Pure Argan Oil, Cactus Seed Oils and natural Moroccan cosmetics.
Working directly with Fair-Trade Women's Cooperatives and avoiding unnecessary packaging means we can supply the freshest pure, organic Argan Oil and Cactus Seed Oil at the best possible price.
Centuries ago the Berber women discovered that Argan Oil is a wonderful natural moisturiser. Used regularly it keeps lines, wrinkles and skin blemishes at bay. It helps to prevent stretch marks and heal minor scars from Acne or surgery.
Pure Argan is a also a natural hair conditioner.Flaky, dry scalp, dandruff, frizz and split ends are problems that a regular oil treatment can cure. In Morocco the secret to fuller, healthier hair is simple and natural. Use Pure Argan Oil treatments to repair tired or damaged hair and condition the scalp.
Our of our products are organic, cold-pressed, fair-trade. Oils are pressed and imported in small quantities every few months to ensure the highest level of nutrients.
All of our prices include
Free Delivery World-Wide.


You can
learn more about Argan Oil and Cactus Seed Oil
by e
xploring our main web site and
download our eBooks
from our product pages,
If you need any further advice about your purchase or have a general questions click here to get in contact.
Best Wishes
Malika