Welcome to Argan Oil Direct - The Home of Pure Cosmetic & Culinary Argan Oil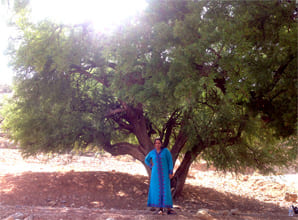 Welcome to the Argan Oil Direct online store.
Buy genuine, pure, organic Moroccan Argan Oil and Cactus Seed Oils with Free World-Wide Delivery.
My name is Malika and I was born in Morocco into a Tashlahait Berber family. I grew up in the Argan forest regions to the south of Marrakech where, for generations, my family have produced organic Olive and Argan Oils.
After I moved to Europe, over 16 years ago I soon discovered that it was almost impossible to buy my favourite product Argan Oil.
Argan Oil is a wonderful natural moisturiser. By applying it regularly Berber women have found that this natural oil helps to keep lines, wrinkles and skin blemishes at bay leaving skin feeling smoother and softer. It is also helpful to prevent and remove stretch marks and minor scars from Acne or surgery. For some people it works wonders calming inflamed skin conditions such as Eczema. It leaves skin feeling great and is easy to use - simply massage in and leave it to repair and nourish your skin overnight.

Pure Argan is also the hair conditioner of choice. By applying Argan Oil to protect, soften and condition both hair and scalp Berber women preserve the full and dark hair for which they are famous in Morocco. Flaky, dry scalp, dandruff, frizz and split ends are only things I discovered in Europe. The secret to fuller, healthier hair is simple and natural. Simply use Pure Argan Oil to repair tired or damaged hair.
In 1998 I started working with family, friends and the best of the Berber women's cooperatives to source our 100% Pure Cosmetic Argan Oil. We then selected the finest grade of Argan Oil for skin and hair care and Organic toasted Culinary Argan Oil for eating.
Not many people will tell you that there are actually two types of pure and genuine cosmetic Argan Oil produced. The first grade of cosmetic Argan Oil is cold-pressed and filtered once. This grade retains a natural Argan nut scent. The other type of Argan Oil is filtered a second time to produce a pure scent free oil. We recommend the double filtered oil for anti aging skin care and hair treatment. Single filtered Argan has an Argan nut scent and is better for skin problems such as Eczema.
When it comes to sourcing Argan Oil we deal only with the best producers. Our Argan Oil is not just commercial grade Argan as you will find in most shops or online. Commercial oil is bulk packaged and may be up to a year old before you even receive it. This is the reason that we always buy our Argan Oil in small quantities every few months. Buying freshly pressed oil every few months ensures that it is in the best condition and has the highest level of bio-active nutrients. My goal - to make the best Argan Oil available at the best prices. So we can all afford to enjoy and benefit from using it daily. By working directly with my family and cooperative producers and avoiding unnecessary packaging we can supply you with the same grade of pure Argan Oil that is "celebrity branded" and costs many times as much. Don't be fooled by glossy packaging - it is what is inside that counts!
With a worldwide base of regular customers we can now even include FAST & FREE Delivery. For you that means no nasty surprise postage charges added at checkout.
Our 4 informative eBooklets about Argan Oil, Natural Skin and Hair care will be added to your order free to download online.
Learn more, win free Argan Oil products in our competitions, get latest natural health news, special offers and more.
Please share you feedback by emailing us or using Facebook, Twitter, Pinterest or Google Plus.
If you need more guidance to help make your purchase or have any questions about Argan Oil I am always available to answer your email.
I look forward to hearing from you.
Malika