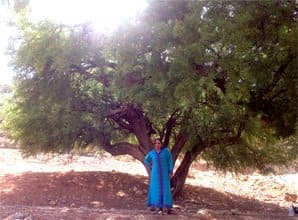 My name is Malika. I was born in Morocco and grew up in the Argan forest region south of Marrakech.
In 1998 I started working with the best Berber women's cooperatives to source 100% Pure, Organic, Cosmetic Argan Oil.
By working with producers and avoiding unnecessary packaging we are able to supply genuine pure Argan Oil and Cactus Seed Oil at the best possible price.
Centuries ago the Berber women discovered that Argan Oil is a wonderful natural moisturiser. Used regularly it keeps lines, wrinkles and skin blemishes at bay. It also helps to prevent stretch marks and heal minor scars from Acne or surgery.
Pure Argan is a also great natural hair conditioner.Flaky, dry scalp, dandruff, frizz and split ends are problems that I discovered in Europe.
In Morocco the secret to fuller, healthier hair is simple and natural. Use Pure Argan Oil treatments to repair tired or damaged hair and condition the scalp.
All of our Argan Oil is cold-pressed and imported in small quantities every few months to ensures it has the highest level of bio-active nutrients.
We do not sell commercial grade Argan Oil.
Our prices also include Fast and Free Delivery World-Wide.
Download our ebooks or checkout our main website www.arganoildirect.com to learn everything you need about Argan Oil and Cactus Seed Oil.
If you need any further advice I'm here to answer your questions.
Best Wishes
Malika