Argan Oil & the Moroccan Berber Women's Cooperatives
A story of how family groups came together to create the Argan Oil women's cooperatives owned entirely by Berber women.
Of, how one Moroccan university professor's interest in the economic preservation of the Argan tree transformed a traditional craft into a global trade.
A project that improved health. education and increased their the members income by more than ten times.
Who owns the Argan Trees?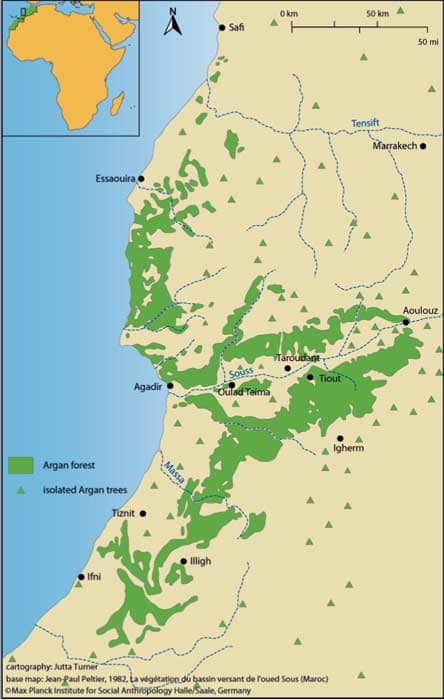 Map: Max Planck Institute for Social Anthropology:
Project Turner
Argan Oil has been made for hundreds if not thousands of years by the native inhabitants of… Continue reading →
Israeli Argan Oil & Argan 100
Will Israeli Projects impact the livelihood of Berber Womens Cooperatives?
Israel has been trying to establish itself in the Argan Oil business and is starting to grow the Argan tree in the Negev desert Israel. The project is part of a national program to encourage new Israeli settlers to establish new communities in more rural areas. Israeli companies have been developing what they call a "super strain" of Argan. They claim that this strain should survive in less harsh conditions and produce ten times more nuts than the trees in Morocco
.