Argan Oil & Anti-Aging Recipes for Making
Home-Made Natural Skin Care Products
Did you know that most of the "wonder ingredients" promoted in commercial skin care products are from foods, oils and herbs?
Retinoids, AHA's, Peptides and many active ingredients are actually all available in natural ingredients you will probably already have in your kitchen!
Combining ingredients like milk, salts, fruits & oils you can quickly make effective, chemical-free and inexpensive alternatives to most commercial products. On this page there are a few examples of natural cosmetics recipes that cover most personal care needs.
For lots more recipes download our eBook "the Ultimate Guide to Making Natural Cosmetics".
Scroll down to the bottom of the page for to download.
On this Page
● Anti Ageing Skin Cleanser
● Skin Cell Stimulator and Cleanser
● Wrinkle Beating exfoliators
● Skin Firming Face Rinse
● Home Made Argan Oil Face Mask
Skin Cleansers
Most commercial soaps that you will find in a supermarket are quite harsh and will easily dry-out your skin.
Using Argan Oil is great for restoring hydration levels and repairing the drying soap effects. However, there are many, better ways to cleanse your skin.
Better still you can make these gentle facial cleansers for your skin at home.
They clean delicate facial skin by removing dead skin cells, excess oil and dissolving dirt and impurities.
This type of cleansing is great for skin renewal and is great to do to maximise the effects of using a pure anti-aging Argan Oil.
You don't have to do this every day but once or twice a week is a good start.
Anti Ageing Milk and Honey Skin Cleanser
Milk and honey is an ancient anti-wrinkle cleanser that dates back to the Pharaohs.
There is now some scientific support for this treatment. The milk is rich in lactic acid which cleanses pores and helps get rid of debris from the skin. It also stimulates the production of collagen. Oily, blemish prone skin can benefit from the exfoliating power of alphahydroxy acids (AHA's) which peel away layers of dead skin cells.
Milk also contains AHA's so we can use this as part of our cleanser. Honey is rich in humectants which help keep skin hydrated and increase its elasticity.
Massage this into your skin and leave it on for ten minutes. Rinse it off with lukewarm water.
Ingredients:
1 tablespoon of whole milk
1 teaspoon of honey for milk
How to:
Combine about a teaspoon of honey (preferably dark honey) with a tablespoon of whole milk. Put the mix in a small bottle and dip it in hot water until the mixture gets warm and the honey can thoroughly mix with the milk by shaking it. Make sure it's comfortably warm but not scalding. Shake well and apply. Leave on for around ten minutes, then rinse with warm water.
Skin Cell Stimulator and Cleanser
Ingredients:
1 ripe fresh Tomato
2 tablespoons Milk
1 tablespoon fresh Lemon juice
1 tablespoon fresh Orange juice
How to:
Put all the ingredients in a food blender and blend until a smooth watery liquid/paste.Can be refrigerated for a few days
How Natural Oils & Boost Collagen & Repair Skin ►︎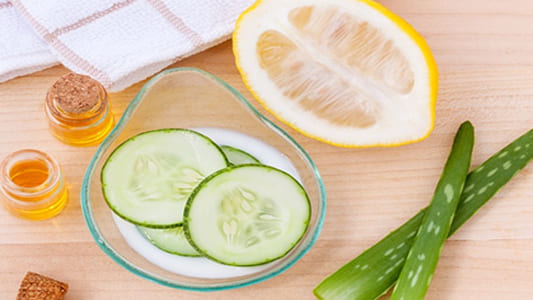 Skin Hydration with Cucumber
Cucumber are great for skin hydration, nutrition and dark marks.
They contain high levels of vitamin K, cucurbitacins, flavonoids, antioxidants  and lignans. [89]
Rutin and ascorbic acid oxidase in Cucumber act as free radical scavengers. Other research suggested they have photoprotective effects ( SPF 0.2 ).
Cucumber extract also decreased melanin production and skin sebum making it ideal for skin lightening, Melasma and Acne.
Cucumber can be blended  with many other foods to create an easy to apply face mask/cream.
Ingredients:
Cucumber with alone or blended with:
Lemon:  2x Tablespoons cucumber juice –  1x Tablespoons lemon juice
Tomato:  1/2 cucumber – 1 tomato
Avocado: 250g avocado – 30ml cucumber juice
How to:
Simple blend the Cucumber or juices apply and leave for 15 to 20 minutes.
Wrinkles, Skin Complexion Problems & Exfoliators
Lemon Juice and Sugar Exfoliator
Exfoliating skin removes dead skin cells from the outer layer of the skin, revealing the softer, supple skin beneath.
Lemon juice is rich in anti oxidant vitamin C, which promotes the production of collagen and has strong exfoliating properties.
Sugar contains glycolic acid, a type of alpha-hydroxy acid ( AHA )that helps repair skin damage and remove dead skin cells.
Ingredients:
one teaspoon of sugar
two tablespoons of lemon juice
How to:
Mix the ingredients well then gently massage into your skin avoiding the eye area. Leave ten minutes and rinse with cool water.
Lemon Juice and Baking soda Exfoliator
Ingredients:
1 tablespoon baking sodalemon juice as needed
How to:
Combine baking soda and lemon juice.
Mix enough juice to make a paste.
The mixture will fizz.
Don't worry simply apply to your skin for a couple of minutes, then rinse off.
AHA's
Popular brand creams advertise that they contain AHAs.
AHA's peel away dead skin cells to allow your skin to renew.
However, the AHAs in commercial anti ageing products are also found in Milk and – apple cider vinegar,  lemon  and other fruit juices, tomatoes and grapes.
Removing Dark Marks on Skin ►︎
Argan Body Butter
Ingredients
100g cup organic raw shea butter
50g cup coconut oil )
40ml cup argan oil
How to:
First blend the shea butter and coconut oil in a glass container placed in a bath of warm water then allow to cool.
Next Stir in argan oil – you can also add a natural oil to give the butter a nice fragrance.
Place the mix in a cold place until it starts to set.
Finally, before the butter sets thoroughly "whip" the mix to give it a smooth and consistent texture.
Face Detox Mask
Calcium Bentonite Clay or Moroccan Rhassoul Clay face masks.
Bentonite clay and Rhassoul Clay is famous for removing toxins and the long term build of up heavy metal toxins we have in our system.
After the nuclear disaster of Chernobyl in Russia scientists prepared a chocolate mixed with Bentonite Clay food bar which was given to locals to eat to help remove the radioactive toxins from their systems!
It is great to clear spots and exfoliates the skin. However, on its own with water it really contracts as it dry. To complete our ultimate anti ageing and detoxifying face mask we add a few secret ingredients.
Ingredients:
2 Tablespoons of Calcium Bentonite or Rhassouls Clay powder
1 Tablespoon of Honey
1 Tablespoon of Cosmetic Argan Oil
Half a Lemon
How to:
Thoroughly blend the Honey with the Lemon Juice and Argan Oil until an even consistency.
Add the clay to the mix bit by bit blending as you go.Massage into your face an leave for 10 minutes.
Finally, rinse off with cold water.
Argan Oil for Break-Out Skin & Acne ►︎
Skin Firming Lemon Balm Rinse
The Lemon balm is a natural astringent that will help keep skin taut and firm.
It may also used with a homemade Argan oil hair mask.
Ingredients:
A handful of lemon balm
Two cups of boiling water.
How to:
Steep the lemon balm in the boiling water and leave to stand for at least 10 minutes.
Lemon balm rinse will keep in the fridge.
When ready to use it just warm it to room temperature.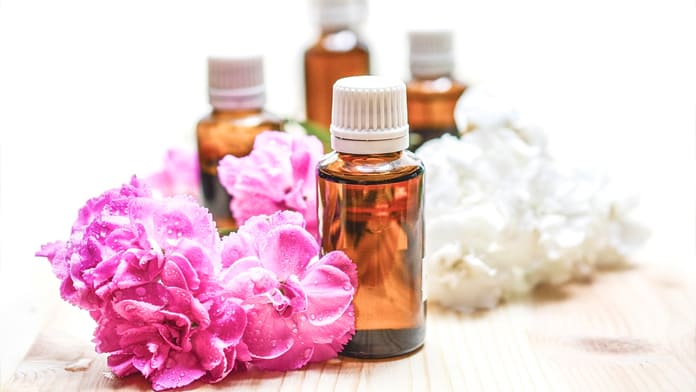 More Natural Oils for Skin Care
Ancient societies discovered the benefits of essential oils for skin care.
It is only now we are learning the benefits of natural oils for use in skin care.
Essential oils are used in dermatology for a wide range of beneficial properties.
Currently, over 90 essential oils with over 1500 blends have been identified as having positive benefits for use on skin.
This short article features around 15 natural oils which can be added to an Argan carrier oil.
Argan Oil & Natural Oils for Skin Care ►︎
Free eBook Download – How to Make Every Natural Cosmetic Your Will Ever Need – 23 pages
How to Make Every Natural Cosmetic Your Will Ever Need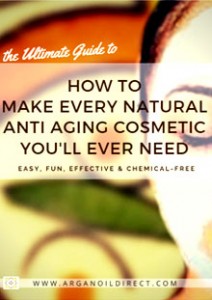 DOWNLOAD ►︎
This Free eBook tells you how to make just about every skin care product you will ever need – at home.
Avoid using expensive, chemical filled products that also don't really work!
These recipes are easy and fun to make. Make inexpensive and effective products that are better than their chemical counterparts.
Recipes currently included are:
Face Masks
#1 Skin Soften
#2 Brightening
#3 Anti Wrinkle Firming and Anti Aging
#4 Exfoliating
#5 Detoxifying
Skin Firming
#1 Collagen Boosting Serum
#2 Skin Firming Lemon Balm Rinse
Cleansers & Exfoliators
#1 Anti Ageing Milk and Honey Skin Cleanser
#2 Skin Cell Stimulator and Cleanser
#3 Wrinkle Beating Exfoliators
#4 Lemon Juice and Sugar Exfoliator
#5 Lemon Juice and Baking soda Exfoliator
Cosmetics
#1 Lip Balm
#2 Argan Body Butter
#3 Natural make up remover
Start now by clicking here to DOWNLOAD ►︎ your Free eBook.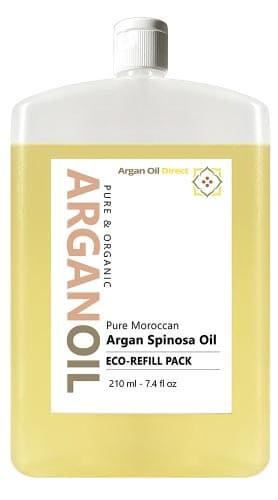 Pure Argan Oil - 200ml
Pure Organic Argan Oil double filtered. An Argan Oil with almost no Argan nut smell. The best choice for skin care & hair.
● 100% Pure Oil
● Certified Organic
● In Stock
● Free Delivery
● Quality Guarantee

Was $57.10 Now $43.66
Free Worldwide Delivery
Buy Argan Oil for Making Skin Care Products
Save up to 40% on our cosmetic Argan Oil.
Buy directly from some of our web pages where you see the "add to cart" buttons or from our full online store.
All prices include Free Delivery Worldwide.
Research and References
[89] http://www.jarcp.com/3050-evaluating-the-potential-benefits-of-cucumbers-for-improved-health-and-skin-care.html