Argan Oil for Lightening Dark Spots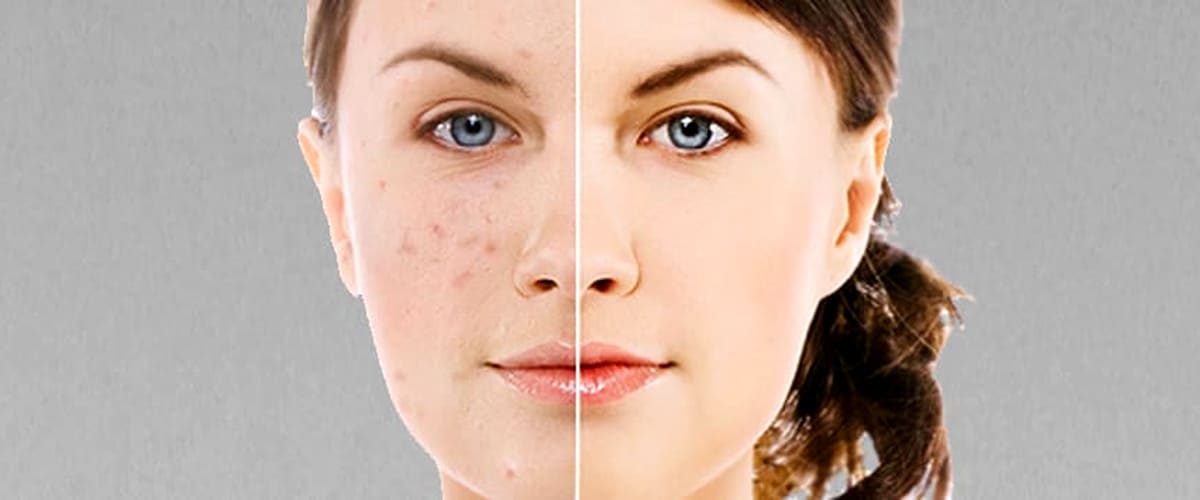 In Morocco, pure Argan is used for skin care partly for the gentle lightening effect it has on dark skin marks and spots.
So, not only does Argan Oil moisturise and help slow ageing but it gently fades dark marks and blemishes for a clearer, healthier complexion.
However, is there any scientific evidence to support this traditional belief that Argan Oil can lighten dark marks?
The Effect of Argan Oil on Melanin Production
In 2013 a study was undertaken to discover how Argan Oil might be lightening dark marks and fading hyper-pigmentation. [9]
The test was to see if a natural oil could actually affect the production of melanin that leads to darkening of the skin?
If so then this would explain the skin lightening effects of Argan Oil reported by Moroccan women.
In the test Argan was applied to Melanoma cells.
The results confirmed that there is a decrease in Melanin production in cells that had been treated with Argan Oil.
Furthermore, the decrease was dependent on the dose of Argan Oil used.
Researchers discovered that Argan Oil inhibits the conversion of enzymes called TYR and DCT – which make melanin.
Furthermore, production of melanin in skin is affected by many-body systems from hormone levels to the inflammatory systems.
So how was Argan Oil having this beneficial effect on such a complex process?

Causes of Dark Spots, Hyperpigmentation & Melasma
Melanin production is linked with:
The endocrine system ( hormone production )
The immune system
The inflammatory response system
The central nervous systems. [70]
Dark spots and patches can be triggered by one or more of these body systems.
For example, Melasma, is most commonly caused by hormonal imbalances.
Skin damage – e.g. cuts from shaving, oven burns, acne – lead to inflammation that stimulates melanin in the damaged area.
Acne and spots are probably the most common cause of annoying dark marks on the skin.
Argan Oil is very popular for use on spot prone skins for its natural anti-septic effects which help prevent spots.[72] [73][73] This is partly due to the fact that it is a non-comedogenic oil. This means it does not clog pores.
---

Pure Argan Oil 60 ml
Pure double filtered Organic Argan Oil with almost no Argan nut smell.
100% Pure Oil
Certified Organic
In Stock
Quality Guarantee

Free USPS 5-7 Day Tracked Shipping to U.S.
Now $19.78
---
How does Argan Oil Lighten Dark Spots?
The effect of Argan Oil on melanin production is due to the high level of tocopherols enhanced by interactions with anti-inflammatory and anti-septic ingredients, Sterols and Triterinoids.
High vitamin E levels in Argan Oil gently lighten dark patches of skin. Other anti-inflammatory and anti-septic compounds in Argan Oil suppress inflammation which helps to prevent spots and blemishes that can leave dark marks on the skin. [72][73]
In conclusion, Argan Oil is not a fast-acting "lightening cream". However, there is strong evidence to support its traditional reputation for giving a clearer, blemish-free skin and lightening dark spots with regular use over time.
Natural Oil Serum for Lightening Dark Marks
Hyper-pigmentation is a darkening of the skin in small areas or patches.
It is the result of an overproduction of melanin stimulated by skin inflammation that may be caused by physical damage, scars, burns, and spots.
Hormonal reactions can also cause Melasma – often known as the "mask of pregnancy". Emotional stress can also cause this type of hormonal melasma at any time of life.
Reactions to beauty treatments, such as chemical peels and cosmetic product ingredients are also possible.
Commonly available "fade creams" can help reduce the appearance of marks but they usually return again when the skin renews.
Using natural oils is a multi-layered approach. The oil serum will help to lighten pigmentation in the skin but also inhibits new melanin production.
This means marks should fade gently and not return as easily – and hopefully not at all!
Argan Serum for Lightening Hyper-pigmentation, Age Spots, Dark Marks and Melasma.

Formula
60ml Pure Argan Oil
5ml Prickly Pear Cactus Seed Oil
1ml / 20 Drops Lemon Oil
1ml / 20 Drops Carrot seed oil
1ml / 20 Drops Geranium Oil
1ml / 20 Drops Rose Oil
Before Use
Essential Oils can have a strong effect. Please do a patch test with your skin lightening serum to test for any sensitivity to any of the essential oils before general use.
Simply apply a few drops on to the side of your neck or your inner forearm and wait an hour or so to see if there is any reaction.
If you have an uncomfortable reaction that you want to calm try applying a cold plain yoghurt to the affected area.
To make measurement easier it may be worth buying 1ml pipettes that you will find cheaply on places like eBay.
The Best Oils for Skin Lightening
Argan Carrier Oil
Pure Argan Oil is the perfect natural "carrier oil" for many serums for skin or hair.
It has an immediate anti-ageing effect on the skin. It also has a gentle dark mark lightening effect, The high levels of Vitamin E in Argan Oil help with depigmentation. They affect a number of biological processes that cause melanogenesis – the cause of excessive discolouration in the skin.
Linoleic acid in Argan Oil also has a gentle lightening effect when applied topically.

Cactus Seed Oil
Very high in vitamin E, plant sterols and anti-inflammatories Prickly Pear Cactus Oil is a good all-around choice for anti-ageing and lightening action.
If you want a single anti-ageing skincare oil that also tackles minor complexion problems cactus seed oil on its own can have excellent results.
Lemon Oil [ may cause UV sensitivity and should only be included in a serum for overnight use]
Lemon oil is one of the most powerful essential oil for skin lightening and for repairing discoloured, melasma or hyper-pigmentation.
Limonene and citric acid are major components of lemon oil. Limonene is excellent at treating skin discolouration.
Citric acid is an Alpha Hydroxy Acid and this helps exfoliate the skin for a clearer more even complexion.
Add to your lightening serum to use as an overnight treatment only.
Carrot Seed Oil [ may cause UV sensitivity and should only be included in a serum for overnight use]
Carrot seed oil contains loads of carotol and also limonene that's is the powerful lightening agent in lemon oil.
Carotol is also known to brighten dull complexions and lightens skin marks.
Beta carotene also inhibits tyrosinase activity and slows the production of skin darkening melanin.
Although it also has a good lightening effect, like lemon oil, it also increases sun sensitivity.
This is due to its high furanocoumarin content, which has photosensitizing effects
It is advised not to use carrot seed essential oil during pregnancy or nursing.
Geranium
Effective in lightening scars, blemishes and dark spots, a geranium essential oil is one of the top essential oils for hyperpigmentation.
It has a cell-protective antioxidant effect and also inhibits elastase and tyrosinase and so melanin production.
Geranium has a strong anti-inflammatory effect and so may work well on post-inflammatory pigmentation and melasma. [7]
Rose Oil
Rose essential oil also rejuvenates & brightens dull & discoloured skin so it can also be used to even out hyperpigmentation.
Blend a fragrant rose essential oil with your Argan Oil carrier oil and simply massage it into your skin. [7]
Rose oil has a strong anti-inflammatory effect and may be ideal for treating hyper-pigmentation due to skin inflammation and melasma.
Other Essential Oils to Try for Skin Lightening
Cinnamon Oil
---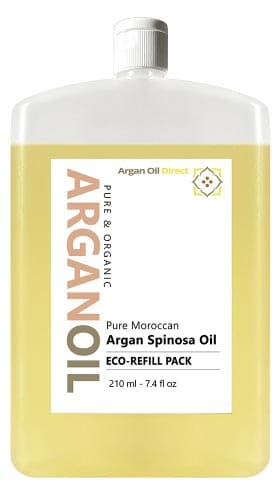 Pure Argan Oil 210 ml
Organic Argan Oil double filtered with almost no Argan nut smell. The best choice for skin care & hair.
100% Pure Oil
Certified Organic
In Stock
Quality Guarantee

Free USPS 5-7 Day Tracked Shipping to U.S.
Now $50.38
---
Buy Pure Argan Oil to Use for Skin Care
We sell 2 types of genuine, organic and pure cosmetic Argan Oil.
The first is our "Naturally Scented". This is made from an extra-virgin cold-pressing and a single filtration process.
This grade of cosmetic Argan oil has a natural Argan nut scent and is recommended for blotchy, acne-prone or inflamed skin.
Our "Unscented" Argan Oil is the same extra-virgin oil that is filtered a second time. This type of cosmetic Argan Oil has less sediment, less water content and no smell.
It is the best choice for face, general skin care, and hair treatments.
Buy both types of certified, organic Argan Oil for skin and hair from our online store.
You can also buy directly from some of the web pages. Click on the "add to cart" buttons to purchase directly through Pay Pal checkout.
Prices include fast and Free Delivery Worldwide and all products are supported by our money-back guarantee.