Reducing Cholesterol Levels with Culinary Argan Oil
Studies into the use of Argan Oil for Cholesterol revealed it is one of the richest sources of omega fatty acids and sterols known.
It has a wide range of plant sterols which have Cholesterol reducing effects and benefits for cardiovascular problems.
Now, research shows that essential fatty acids from plants was twice as effective as from fish oils for heart disease.

Cholesterol Research into Culinary Argan oil
Fatty acids are classified in three groups: saturated, mono unsaturated and polyunsaturated.
Mono unsaturated fatty acids reduce blood levels of LDLs ("bad cholesterol") without affecting HDLs ("good cholesterol") as long as they are used as replacement of saturated fatty acids.
Polyunsaturated fatty acids reduce blood levels of LDLs but HDLs too. However they must be part of our diet since they provide the essential fatty acids: linoleic acid and alpha linolenic acid.
Studies of the sterols Spinasterol and sitosterol, naturally occuring sterols found in culinary Argan Oil, suggest that spinasterol, as well as sitosterol, and Stigmasterol [7] inhibit cholesterol absorption.[8]
Argan Oil is also rich in linoleic acid which increases production of prostaglandins 1. This is beneficial for people with rheumatologic conditions and cardiovascular problems.
However, not all Omega fatty acids are the same.
In fact studies identified that Omega 3 and Omega 6 essential fatty acids derived from plant sources were much more effective for heart disease than those derived from fish oils!

Learn More About Essential Fatty Acids from Plants vs Fish >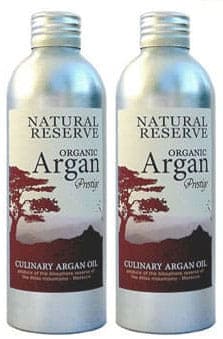 Culinary Argan Oil – 2x 6.76fl oz
Culinary Argan Oil has a Delicious Toasted Nutty Flavour.

● 100% Pure Oil
● Certified Organic
● Free Delivery
● In Stock
● Quality Guarantee

Was $59.07 Now $49.86
FAST & FREE Delivery

The Cell Membrane
Culinary Argan Oil is active in the maintenance and repair of the membrane that encloses the cells. Its high oleic acid content makes culinary Argan oil particularly interesting in the regulation of blood cholesterol. Studies are being done and it seems that 2 tablespoons per day of this oil during a month could considerably lower cholesterol levels.
Saponins contained in eating Argan oil can also lower blood cholesterol thereby reducing the risk of heart disease.
"In a recent study Hyperlipidemia was induced by high calorie and cholesterol (HCC) diet administration in 16 rats. Eight rats were treated with culinary Argan oil (1 ml/100 g weight) daily by oral route during 7 weeks (treated group). Control animals were also fed with HCC diet for 7 weeks.
After 7-week treatment with Argan oil, blood lipoproteins were significantly reduced. Total cholesterol decreased with 36.67% (P<0.01), low density lipoprotein (LDL)-cholesterol in 67.70% (P<0.001), triglycerides in 30.67% (P<0.05) and body weight in 12.7% (P<0.05). High density lipoprotein (HDL)-cholesterol concentration remained unaltered.
These results indicate the beneficial effect of edible Argan oil in the treatment of the hyperlipidemia and hypercholesterolemia. This effect will be related with the polyunsaturated fatty acids and other constituents of studied oil."
Boosting HDL cholesterol Levels
Phenolic nutrients in edible Argan Oil help regulate cholesterol in a number of ways. By stopping, unwanted, LDL cholesterol oxidation and boosting healthy HDL cholesterol an overall beneficial improvement is obtained. [0] [2]
In a study a total of 60 subjects were divided into two groups. After 21 days researchers discovered that good HDL cholesterol levels in the blood had gone up significantly in subjects taking an edible Argan Oil supplement.[3]  High triglycerides levels in the bloodstream have been linked with cardiovascular diseases such as atherosclerosis and stroke. [4] Research revealed that the levels of triglycerides in the bloodstream were also reduced significantly in the culinary Argan oil test group.
Research was carried out on 96 subjects. One group of 62 participants consumed 15 ml of Argan Oil per day. Much lower LDL cholesterol levels as well as lower apo-B levels were found in tests on the Argan Oil group. Lipoprotein(a) concentrations were also found to be at a reduced level the Argan Oil group. [5]  Culinary Argan Oil consumption appears to inhibit the abnormal fatty deposits which develop within artery walls.
Culinary Argan Oil has a wide range of polyphenols, anti oxidants and plant sterols. A daily intake of 1 to 2 grams of plant sterols lowers LDL cholesterol levels [6] as well as countering the effects of atherosclerosis. [4]

Research Articles
Studies into the effects of edible Argan oil and its health benefits in the Moroccan diet have confirmed the potential benefits for cholesterol reduction, weight loss and cardiovascular diseases.

Learn More About Natural Treatments for Cardiovascular Disease >
Learn More About Natural Arthritis Treatments >
Buy Culinary Argan Oil for Cooking
Buy certified organic culinary Argan Oil and view our latest special offers on our web store.
You can also buy directly from some of our web pages where you see the add to cart buttons.
Prices include Free Delivery World-Wide.

References
[0] Physicochemical Characteristics, Nutritional Properties, and A Review Abdelilah El Abbassi, , Nauman Khalid, Hanaa Zbakh & Asif Ahmad
[1] Berrougui H, Ettaib A, Herrera Gonzalez MD, et al. Hypolipidemic and hypocholesterolemic effect of argan oil (Argania spinosa L.) in Meriones shawi rats. J Ethnopharmacol 2003;89:15-18
[2] Berrougui H, Cloutier M, Isabel M, Khalil A. Phenolic-extract from argan oil (Argania spinosa L.) inhibits human low-density lipoprotein (LDL) oxidation and enhances cholesterol efflux from human THP-1 macrophages. Atherosclerosis 2006;184:389-396.
[3] Derouiche A, Cherki M, Drissi A, et al. Nutritional intervention study with argan oil in man: effects on lipids and apolipoproteins. Ann Nutr etab 2005;49:196-201.
[4] Cherki M, Derouiche A, Drissi A, et al. Consumption of argan oil may have an antiatherogenic effect by improving paraoxonase activities and antioxidant status: intervention study in healthy men. Nutr Metab Cardiovasc Dis 2005;15:352-360.
[5] Drissi A, Girona J, Cherki M, et al. Evidence of hypolipemiant and antioxidant properties of argan oil derived from the argan tree (Argania spinosa). Clin Nutr 2004;23:1159-1166.
[6] webmd.com/cholesterol-management/features/low-cholesterol-diet-plant-sterols-stanols
[7] Stigmasterol reduces plasma cholesterol levels and inhibits hepatic synthesis and intestinal absorption in the rat. ncbi.nlm.nih.gov/pubmed/16483871
[8] Effects of Spinasterol and Sitosterol on plasma and liver cholesterol levels…https://www.jstage.jst.go.jp/article/jphs1951/33/1/33_1_103/_pdf