Argan Nut Oil for Weight Loss?
Increased Tree Nut Consumption Aids Weight Loss and B.M.I Reduction
The Benefits of Argan Tree Nuts
Argan Tree Nuts may cut inches off your waistline!
According to April 2012 issue of the Journal of the American College of Nutrition beneficial effects for tree nuts on reducing groups of risk factors, known as metabolic syndrome, has been identified. These factors are associated with the development of type 2 diabetes, coronary artery disease and cholesterol reduction.
Carol O'Neil, PhD, MPH, RD and associates evaluated data from 13,292 men and women aged 19 and older. Twenty-four hour data was analyzed for the intake of almonds, Brazil nuts, cashews, hazelnuts, macadamias, pecans, pine nuts, pistachios and walnuts.
Consumers of nuts were defined as those who consumed at least ¼ ounce tree nuts per day. Participants were found to have a decreased metabolic syndrome risk factors that included abdominal obesity, high blood pressure, elevated fasting glucose and low high-density lipoprotein (HDL) cholesterol in comparison with those who did not consume nuts. Nut consumers also had a lower level of C-reactive protein, a marker of inflammation and indicator in conditions such as Arthritis.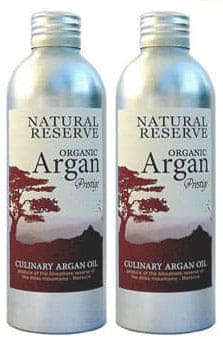 2×6.76fl oz Culinary Argan Oil
Culinary Argan Oil has a Delicious Nutty Flavour. Use 10 to 15ml per day for nutritional supplement.
100% Argan Oil
Money Back Guarantee
Certified Organic
Free Delivery
In Stock
13.53fl oz Argan Oil for Eating


Special Offer $58.26

$48.27




Free Worldwide Delivery
Nuts, Argan Oil and Weight Loss
Studies revealed the fact that tree nut consumers had lower body weight, as well as lower body mass index (BMI) and waist circumference compared to non-consumers! Dr O'Neil states that: "The mean weight, BMI, and waist circumference were 4.19 pounds, 0.9kg/m2 and 0.83 inches lower in consumers than nonconsumers, respectively."
Earlier research by Dr O'Neil's team found that nut consumption in the United States is rather low, and that the quality of the diet improves when nuts are added.
"Tree nuts should be an integral part of a healthy diet and encouraged by health professionals—especially registered dietitians," she recommended.
Maureen Ternus, M.S., R.D., Executive Director of the International Tree Nut Council Nutrition Research & Education Foundation (INC NREF), adds, "In light of these new data and the fact that the FDA has issued a qualified health claim for nuts and heart disease with a recommended intake nuts per day".
View our latest special offers on our Organic Culinary Argan Oil here.
Learn more about Culinary Argan Oil here.
Research References
[1] O'Neil, C.E., D.R. Keast, T.A. Nicklas, V.L. Fulgoni, III, 2011. Nut consumption is associated with decreased health risk factors for cardiovascular disease and metabolic syndrome in U.S. adults: NHANES 1999-2004. J Am Coll Nutr. 30:502-510.
[2] O'Neil, C.E., D. R. Keast, V.L. Fulgoni, T.A. Nicklas, 2010. Tree nut consumption improves nutrient intake and diet quality in US adults: an analysis of National Health and Nutrition Examination Survey (NHANES) 1999-2004. Asia Pac J Clin Nutr. 19(1):142-150.