Argan Oil, Natural Arthritis Treatments & Pain Relief using Compresses & Oils
Arthritis, Rheumatoid Arthritis, Osteoarthritis, Psoriatic Arthritis
---
A Natural Approach to Arthritis Treatments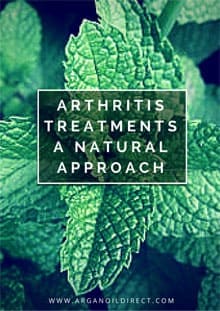 To prevent spam our eBooks can only be downloaded to members. You can join, download, & unsubscribe.
Natural Treatments for Arthritis -UPDATED 48 36 pages – 4.2mb
This Free eBook about natural Arthritis treatments was originally supposed to be an article on this site.
You can still read on-line how Culinary Argan Oil has been used in traditional Moroccan medicine as a natural Arthritis treatment read this article.
But, we had so much information sent to us by customers over the years that it just grew too big too include all of it on our Argan Oil website.
So we made it into a 46 page ( and counting ) eBook – which will be updated with more information in the near future.
The eBook contains:
- 6 Recipes for natural pain relieving compresses and oils.
- 10 of the most essential foods to include in any anti inflammatory diet.
- 6 of the top inflammation fighting spices.
- 6 Traditional herbal remedies tried and tested over the centuries.
Each treatment is presented with details of:
- Active Ingredients
- What each treatment does and how
- Any warnings about use
- Suggested ways to use for a treatment plan
In addition all information about the herbs,spices,oils and foods recommended is supported with internet links to references and scientific studies to verify the claims that are made for these substances.
As always, we must point out that we are not medically qualified to offer any advice or opinion about medical conditions.
The information presented is based on suggestions from people who feel that one or more of these substances has been of positive effect on their condition.
You should of course do your own additional research and should may consult your doctor before using some of the more "direct" remedies such as herbs and spices.
If you have any other conditions, such as heart problems, diabetes etc, you can make more detailed checks into any potential interactions and side effects at http://www.webmd.com/
They are a bit over pessimistic about natural substances and seem to over play side effects but the site is very comprehensive.
Sorry that it is necessary to ask you to join our newsletter to be able to download but when the ebooks were available for download we had a group of people try to download hundreds of copies at a time to shut down our website! ( They really must have a lot of spare time on their hands and nothing better to do! )
Checkout all 4 of our eBooks available for download now by clicking here.
Regards
Malika
9 Responses to Natural Arthritis Treatments Argan Oil Direct Free eBook