Edible Argan Oil Recipes
Organic Eating Argan Oil Recipes

Amalou with Argan Oil
Mozzarella & Tomato Salad with Argan Oil Dressing

Argan Oil for eating has a golden brown colour. To produce this oil the Argan nut kernels are toasted before pressing to give the oil its delicious nutty flavour. Argan Oil is an extremely healthy natural oil with twice the Vitamin E content of olive oil and many other healthy vitamins and nutrients.
Argan Oil is used in meals for its flavour rather than as a frying oil like Olive oil. It is a versatile oil that can used to make sweet and savoury recipes.
Culinary Argan Oil Recipes – Part 2
Here are a few recipe suggestions for preparing food taken from our eating Argan Oil recipes eBooklet.

Amlou
makes about 2 cups
Amlou ( also spelled Amalou ) – is a delicious Moroccan dip made from Culinary Argan Oil toasted almonds and honey. Argan Oil is ground together with roasted almonds and honey to be used as a dip eating with a strong bread. Amlou spread is fairly easy to make if you have a mortar and pestle. Although the preferred traditional method for crushing the almonds is a circular grind-stone.
Ingredients
1 1/2 cups (6 oz. or 200 g) almonds
3/4 cup (180 ml) Culinary Argan Oil
3 to 4 tablespoons honey
2 tablespoons sugar
1/8 teaspoon salt
Preparation
Preheat your oven to 375° F (190° C). Rost your almonds on a baking tray about 10 minutes until a lightly browned and crunchy but not burnt.
Allow the almonds to cool and then grind them to a powdery paste with a pestle or food processor.
Gradually stir the Culinary Argan Oil in with the almonds in a very slow trickle and blend. You can Adjust the amount of oil to your own preference.
Gradually add the warm honey, sugar and salt and continue to blend.
Amlou is usually served on a small plate and eaten with bread.
Learn how to make traditional Moroccan Berber Bread by watching our recipe video.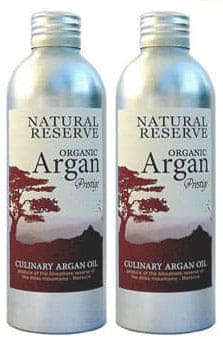 2×6.76fl oz Culinary Argan Oil
Culinary Argan Oil has a Delicious Nutty Flavour. Use 10 to 15ml per day for nutritional supplement.
100% Argan Oil
Money Back Guarantee
Certified Organic
Free Delivery
In Stock
13.53fl oz Argan Oil for Eating


Special Offer $61.93

$54.85




Free Worldwide Delivery
Store Amlou tightly covered in a jar, and shake or stir before serving.
Amlou will keep for two months in cool, dark cupboard.
Mozzarella and Tomato Salad With an Argan Oil Dressing
Serves 2
Ingredients
2 Ripe Tomatoes
2 Mozzarella Balls
3 Anchovies with Oil (marinated anchovies can be bought from most delis / supermarkets )
1 Dessert spoon of Argan Oil
Salt and ground white pepper to season
Preparation
Cut tomatoes and the mozzarella into slices.
Lay out anchovies and their oil on top of the salad. Season.
Finally dress with the Argan Oil
Serve immediately
Back to Top…

To see more culinary Argan Oil recipes click here
To view or buy culinary Argan Oil from our online store click here
For more ideas and inspiration look at our Culinary Argan Oil and Moroccan Cooking Pinterest Page.