Argan Oil – The World's Healthiest Oil
Culinary Argan Oil for Eating & Health
- What is culinary Argan Oil?
- Cooking with culinary Argan Oil
- Recipes using culinary Argan Oil
- Culinary Argan Oil for Health
What is culinary Argan Oil?
Culinary Argan Oil is an edible Argan oil which has a golden brown colour and is used for cooking, eating and as a nutritional supplement. To make authentic Moroccan Organic Culinary Argan Oil for food the Argan nuts are lightly toasted before pressing. This gives the oil produced its golden brown colour, delicious nutty flavour making a pure Argan Oil that is suitable for eating.
You can cook with culinary Argan Oil but the toasting process makes edible Argan Oil unsuitable for cosmetic use. Moroccan Culinary Argan oil is bought not just to eat but is also traditionally used as a nutritional supplement for a range of health problems. Research is now producing scientific evidence to support the traditional uses of culinary Argan Oil for health problems making it the healthiest natural oil you can eat.
Forrecipes suggestions for culinary Argan Oil click here
To Buy Culinary Argan Oil from our online store click here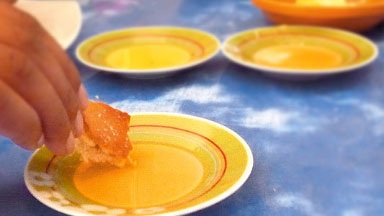 How to use culinary Argan Oil for eating and cooking
Culinary Argan oil is used, as an edible oil in Morocco, in cooking for its toasted, creamy, nutty flavour. It is not used in place of Olive Oil for high temperature cooking and frying but may be used for medium heat applications such as pan frying ingredients.
It is a very versatile oil which can be used in a range of cuisines. It adds flavour and richness to sweet and savoury dishes. Use it to create unique nutty salad dressings, sauces, pour over food, such as roasted pepper, before serving or stirred into soups, roasts or Tagines. Use on grilled goat cheese with almonds, blend with honey to create a breakfast spread, blend with melted chocolate or cream to create unique ice cream toppings. In Morocco Argan is most often enjoyed dipping bread into the oil and eating.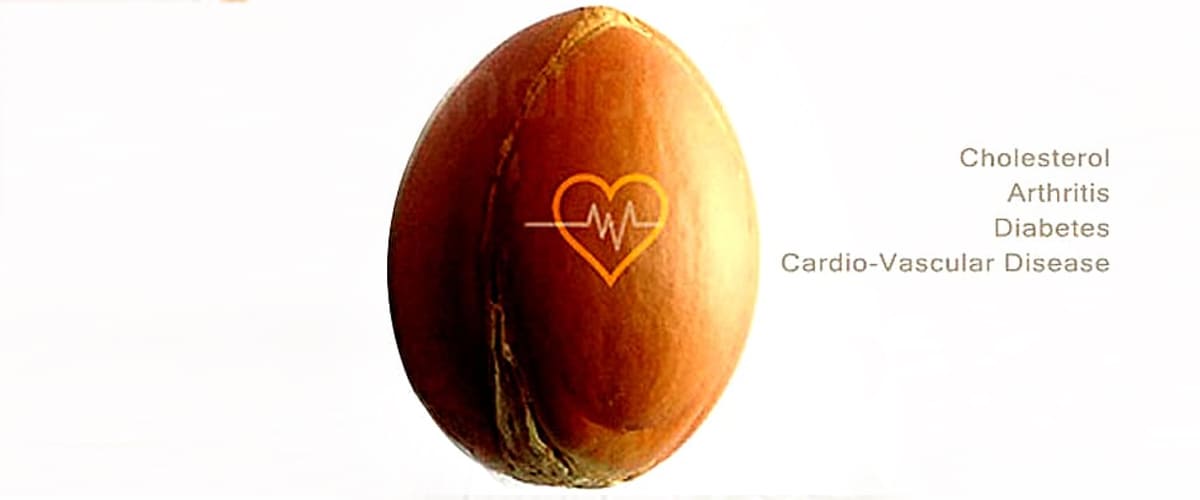 Links to full recipes and videos below.
Recipes for Culinary Argan Oil
View our first page of recipes using Culinary Argan Oil by clicking here
An e_Booklet of Argan Oil recipes is sent with each order of culinary Argan Oil.
Health benefits of culinary Argan Oil
There have been a number of studies into culinary Argan oil and its health benefits. Research into the benefits of edible, culinary Argan Oil in the Moroccan diet has uncovered potential cholesterol reducing effects, chemo-preventative effects, uses for weight loss and cardiovascular disease.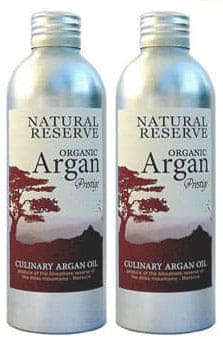 Culinary Argan Oil – 2×6.76fl oz
Culinary Argan Oil has a Delicious Nutty Flavour. Use 10 to 15ml per day for nutritional supplement.
100% Argan Oil
Money Back Guarantee
Certified Organic
Free Delivery
In Stock
13.53fl oz Argan Oil for Eating


Special Offer $61.93

$54.85




Free Worldwide Delivery
You can also find more information on this web site by reading these articles about:
> Argan oil for Cholesterol Reduction
> Cardiovascular Disease Treatment
> Weight Loss and BMI Reduction
> Arthritis

Where to buy culinary Argan Oil for cooking?
Buy certified organic culinary Argan Oil products and view our latest special offers on our web store.
You can also buy directly from some of our web pages where you see the add to cart buttons.
All prices include Free Delivery Worldwide and our products are supported by our money back guarantee.