Omega Fatty Acids for Cardiovascular Disease, Heart Attack, Strokes & Cholesterol Omega-3 fatty acids from Fish Oils VS Plant Oils
A recent review of the effectiveness of Omega-3 fatty acids at reducing heart disease by two groups of scientists have concluded that getting Omega-3 from plants products, such as Culinary Argan Oil,
had the most significant and measurable effect. But what about fish oils?
Omega Fatty Acids and Disease
Our bodies need the right kinds of fat is. Saturated fats in meat, dairy and processed foods are strongly linked to high blood cholesterol and cardiovascular diseases.
Unsaturated and polyunsaturated fats essential fatty acids such as linoleic acid or omega-6 and linolenic acid or omega-3 are, on the other hand, good for us. Natural oils such as Culinary Argan Oil and Olive oils are high in these Omega fatty acids. Fish has also long been reported as a good source for these essential fatty acids and particularly omega-3 fats.
So if you are taking Omega Fatty Acids supplements for Cardiovascular protection, Strokes or Cholesterol should you be taking fish oils or plant based oils?
A Recent Review of Research into Fish and Plant Oils
Many recent reviews of research, published in the Journal of American Medical Association concluded after analysis of 20 studies using fish oils, that although there was a decrease in deaths, cardiovascular problems and strokes, that the effect in terms of percentage improvement, taking into account the percentages for the margin of errors in the study, was so small that it did not represent a sufficient improvement to be able to claim an effectiveness for fish oils.

However, medical researchers at the prestigious Harvard Medical School analysed 27 clinical trials of the effects of omega-3 fatty acid including alpha-linolenic acid in studies with over 250 000 people which included 15,000 heart attacks and cardiovascular events. The supplementation of alpha-linolenic acid omega-3 fatty acids was found to result in a 14% to 20% reduction of heart attacks and other cardiovascular problems.

The LYON Trial
The Lyon trial [1] was another "secondary prevention trial" in which supplements were given to those who had already suffered some kind of attack. Previous trials had often used fish and fish oils as the source of the supplement. However, in this trial plant-derived omega-3 fatty acids, found in Olive, Flax seed or Culinary Argan Oil, were used. The beneficial effects were found to be twice that of fish oils with a significant drop in coronary events.
Furthermore these benefits, like in many of the trials that tested Culinary Argan Oil for cardiovascular problems, started quickly [4]. Patients that continued with the diet or supplements found that years later that they were still being protected [5]. More recent studies have gone on to confirm the benefits of plant based omega fatty acids over fish derived sources.
Subsequent studies have gone on to confirm the higher effectiveness of plant omega-3 fatty acids in protecting the heart [6][7].
Foods Sources High in Omega Essential Fatty Acids
> Argan Oil
> Flax Seeds
> Chia Seeds
> Walnuts
> Soybeans
> Tofu
> Brussels Sprouts
> Cauliflower
> Winter Squash

Essential Fatty Acids & Culinary Argan Oil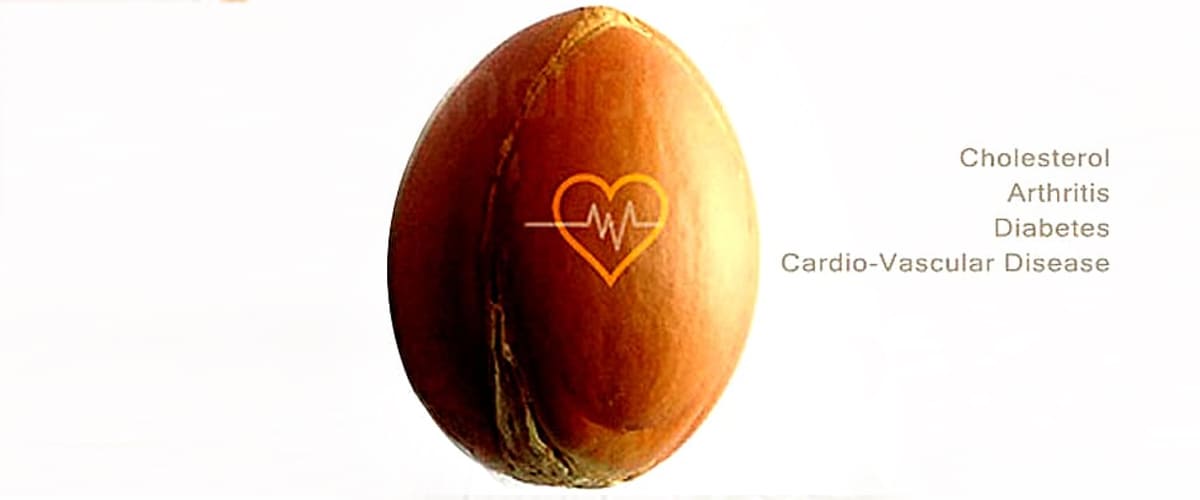 For more information about plant oils and culinary Argan Oil you can read research papers into culinary Argan Oil in the Moroccan diet. For further information about the potential cholesterol reducing effects, chemo-preventative effects and cardiovascular disease of Omega rich oils read these articles:
> Argan oil for Cholesterol Reduction
> Cardiovascular Disease Treatment
> Arthritis
Further research into natural food cures is also contained in our free ebooks. Request these here and get our discount coupon for all products on our online store. Enter email below to receive our free e_Booklets.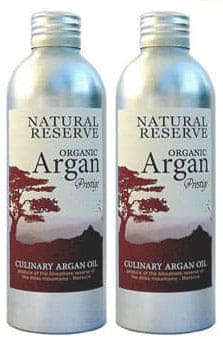 2×6.76fl oz Culinary Argan Oil
Culinary Argan Oil has a Delicious Nutty Flavour. Use 10 to 15ml per day for nutritional supplement.
100% Argan Oil
Money Back Guarantee
Certified Organic
Free Delivery
In Stock
13.53fl oz Argan Oil for Eating


Special Offer $56.33 $47.50



Free Worldwide Delivery
Where can I buy organic Argan Oil for eating?
Buy certified organic culinary Argan Oil products and view our latest special offers on our web store.
You can also buy directly from some of our web pages where you see the add to cart buttons.
All prices include Free Delivery Worldwide and our products are supported by our money back guarantee.


Research & References
[1] Lyon Diet Heart Study: Benefits of a Mediterranean-Style, National Cholesterol Education Program/American Heart Association Step I Dietary Pattern on Cardiovascular Disease
http://circ.ahajournals.org/content/103/13/1823.full
[4] De Lorgeril M – Mediterranean Alpha-Linolenic Acid-Rich Diet in Secondary Prevention of Coronary Heart Disease. The Lancet;343:1454-1459 – 1994.
[5] De Lorgeril M – Mediterranean Diet, Traditional Risk Factors and the Rate of cardiovascular Complications After Myocardial Infarction. Circulation;99:779-785 – 1999.
[6] Singh RB – Randomised, Double-Blind, Placebo-Controlled Trial of Fish Oil and Mustard Oil in Patients with Suspected Acute Myocardial Infarction: The Indian Experiment of Infarct Survival-4. Cardiovas. Drugs and Therapy;11:485-491 – 1997.
[7] Singh RB – Effect of an Indo-Mediterranean Diet on Progression of Coronary Artery Disease in High Risk Patients (Indo-Mediterranean Diet HeartStudy): A Randomised Single-Blind Trial. The Lancet;360:1455-1461 – 2002.