The Purest Argan Oil at the Best Prices
Discover the Benefits of Pure Argan Oil for Skin & Hair – Culinary Argan Oil for Eating & Health
The guide to buying genuine Argan Oil
My name is Malika and I was born in Morocco into a Tashlahait speaking Berber family. I grew up in the Argan forest regions to the south of Marrakech in Morocco where, for generations, my family have produced organic Olive and Argan Oils.
Since 1998 we have been working with Berber women's co-operatives in Morocco to bring the benefits of genuine, pure Argan Oil and Prickly Pear Cactus Seed Oil world-wide. By avoiding expensive packaging and purchasing direct from producers we can bring you the best, cosmetic and culinary Argan Oil, in the freshest condition.
You can buy pure Moroccan Argan Oil for skin care and hair treatments and conditioning and delicious, organic, Culinary Argan Oil on our on-line store.
All prices shown include free worldwide delivery on any order size.
Click here to view our products and special Offers.
Products can also be purchased from our articles where you see an orange "ADD TO CART" button – Checkout by using the red button at the top of this page.
All products are sold with our money back guarantee of quality.

100% Pure Argan Oil – 1x 2.20fl oz
Pure Organic Argan Oil double filtered without Argan scent for skin care and hair treatments.
100% Pure Oil
Certified Organic
Free Delivery
In Stock
Money Back Guarantee
Was $19.81 Now $16.63
FAST & FREE Delivery

What to look for when buying Argan Oil for Hair and Skin
Here are a few things to look for if you want to buy genuine Argan Oil for cosmetic use on skin or hair.
There are two types of cosmetic Argan Oil. The main difference is in what the Argan oil smells like. One has an Argan nut scent the other is an almost scent free oil. Unscented is the best for face and hair treatments. Scented cosmetic Argan Oil is best for skin problems.
Genuine, pure, virgin Argan Oil it should be light to medium yellow in colour. Although colours vary with each pressing a scent free oil is a lighter yellow colour than a scented oil and has no sediment. Both grades of will have a rich, creamy texture and will be quickly absorbed when massaged into your skin leaving little or no oily residue.
Before purchasing check that the bottle ingredients list nothing but pure or 100% pure Argan Oil – not "contains" Argan Oil.
Simply the best skin care product you can buy.
Naturally rich in vitamins Argan Oil improves skin condition and helps to prevent aging of your skin and boost collagen production naturally. Regular use will deliver smoother, firmer skin, reduced lines and wrinkles, less blemishes, reduced minor scars and much more.
This is why it is known as liquid gold and is the only anti aging treatment the Berber women of Morocco have ever needed. Argan oil is also used to protect against stretch marks and treat difficult skin problem such as Eczema. Learn more about natural skin care and how to apply Argan Oil.
How to use Pure Argan Oil for Hair Treatments
Pure Moroccan Argan Oil hair treatments have many uses. In fact the benefits of pure oil hair treatments have been known about in Morocco for centuries. This made it the hair conditioner of choice for all Berber women.
Research has also shown that essential oils can slow hair loss and boost hair growth by 44%.
Rescue tired and damaged hair with just a few treatments. These will repair the hair-shaft, condition the scalp and treat the roots.
Argan can also be blended with other natural oils to create the ultimate, total hair repair serum. Try our Hair Magick hair repair serum which contains 40% pure Argan plus other pure and natural oils that cleanse the scalp and add a high gloss shine. A deep hair repair treatment takes only 30 minutes and should be done no more than once a week to have full effect.
Learn more about using oils for hair treatment – or buy Argan oil for hair.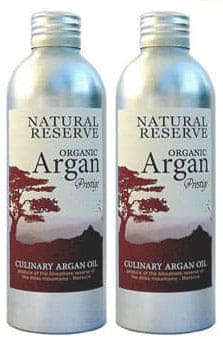 Culinary Argan Oil – 2x 6.76fl oz
Culinary Argan Oil has a Delicious Nutty Flavour. Use 10 to 15ml per day for nutritional supplement.
100% Pure Oil
Certified Organic
Free Delivery
In Stock
Money Back Guarantee
Was $58.19 Now $48.27
FAST & FREE Delivery

Buy Culinary, Toasted Argan Oil for Eating and Supplements – "The Healthiest Oil in the World?"
Culinary Argan Oil has a roasted, nutty flavour and is a golden brown colour. You can use it for cooking and eating or even as a nutritional supplement.
The nutty flavour is produced by first toasting the sun dried Argan Nuts before cold pressing. In Morocco we buy toasted, edible Argan Oil to use for many recipes both savoury and sweet.
Many health benefits are proposed for culinary Argan Oil. It is full of nutrients that are of benefit as part of a natural Arthritis treatment, reducing High Cholesterol levels, heart disease, diabetes and more. In Morocco pure culinary Argan Oil is used not just for eating but for its health benefits.
We do not sell Argan Oil in capsules because capsules contains much less than the dose required for treating health issues problems. If you are purchasing culinary oil for its health benefits we suggest using pure oil as a more effective alternative to Argan Oil capsules.
Learn more about Culinary Argan Oil by clicking on the Culinary Argan Oil link in the menu bar.